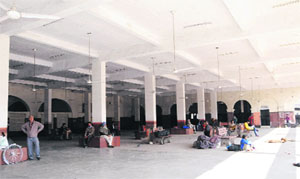 Food plaza to come up at railway station
Amritsar, February 17
Come May and tourists, passengers visiting city railway station may savour dishes from continental, South Indian, Chinese, besides Punjabi cuisines at the station itself, as the work to raise a food plaza has started.

A view of the general passengers waiting hall at Amritsar railway station where a food plaza will come up. Photo: Vishal Kumar

MC silent over shifting of two officials beyond three-year norm
Amritsar, February 17
While the Municipal Corporation has framed a policy to shift all those officials who have been holding on to the same post for more than three years, the authorities still softens its stand when it comes to the case of two officials Yogesh Arora and Vishal Wadhawan. The SAD councillors had come out in the open dubbing them as corrupt and seeking their transfer, a few days ago.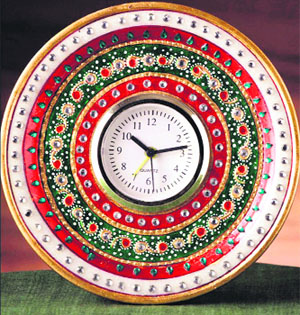 aesthetic touch:

Handicrafts and antiques have found their way into living rooms of people. Tribune photo
interim budget
Pending demand of SSI units to raise Central excise exemption limit ignored
Amritsar, February 17
Local industrialists and traders today expressed a mixed response to the Interim Budget presented by Finance Minister P Chidambaram before the conclusion of this Lok Sabha.
One killed as speeding truck hits him
Amritsar, February 17
A person identified as Sukhraj Singh, a resident of Rataul village, Tarn Taran, was killed in a road mishap when a speeding truck hit his bicycle late last evening.
A promising judo, wrestling champ
Amritsar, February 17
Fighting adverse economic conditions at home, Sukhpal Kaur Hundal, is scaling up the ladder in two games - wrestling and Judo. She was selected for the Indian camp to be held at Sonepat (Haryana) in April for the Commonwealth Games after she won a bronze medal in the National Sports Meet held recently. Earlier, she clinched the gold medal in the All India Inter-varsity Judo Championship in 78 kg category.
Better amritsar Government Hospitals—iI
Govt must improve health services


Amritsar, February 17
In the second part of the series: Better Amritsar Government Hospitals, the city residents have unanimously expressed that political will is needed to better the health services at government health institutions. The residents expressed that health services is a key area, which should be the focus of government as poor people cannot afford treatment costs at private hospitals.
MC staff fail to follow dress code
Amritsar, February 17
The Department of Local Bodies has sanctioned uniform (dress) allowance to a larger section of the municipal corporation (MC) employees. It has already started disbursing uniform allowance, yet the employees refrain from following the assigned dress code.
Kisan, mazdoor unions protest outside DC office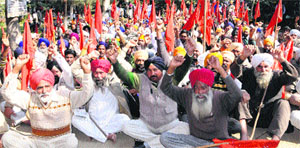 Amritsar, February 17
The Kirty Kisan Union and the Pendu Mazdoor Union held a massive protest rally outside the Deputy Commissioner's (DC) office here today to highlight various problems faced by farmers and farm labourers. Addressing the gathering, state vice-president of the Kirty Kisan Union Datar Singh said farmers and farm workers were entangled in a debt trap because of the anti-agriculturist policies of the government.
Activists of the Kirti Kisan and Pendu Mazdoor Union stage a protest outside the DC office in support of their demands in Amritsar on Monday. Photo: Vishal Kumar

Khalsa Diwan elects office-bearers
Amritsar, February 17
The Chief Khalsa Diwan Charitable Society has announced the names of its office bearers and member of committees following the election of president, held recently.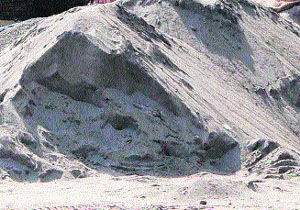 Sand being sold in open despite ban by admn
Amritsar, February 17
The district administration has again banned the sale of sand in the open, especially on the road sides. But doubts area being raised whether it would be implemented in letter and spirit or just remain on paper.


Heaps of sand dumped outside shops in defiance of norms in Amritsar. A Tribune Photograph

Seminar on Hindi literature begins at GNDU
Amritsar, February 17
A two-day seminar on "Hindi Language and Literature: Changing Trends" was inaugurated here today in the Conference Hall of the university. The seminar is being organised by the Hindi Department of Guru Nanak Dev University in association with University Grants Commission, New Delhi. As many as 80 scholars from various parts of the country are participating in the seminar.