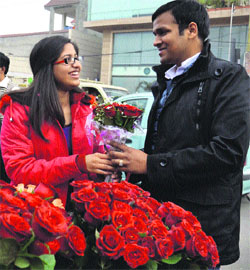 for each other:

A young couple celebrates Valentine's Day by sharing gifts with each other in Amritsar on Friday. Photo: Vishal Kumar

faulty allotment of shops
No action taken against guilty even after over one year
Amritsar, February 14
Even after a three-member committee constituted by the Director, Research, and Medical Education to probe faulty allotment of shops at the Guru Nanak Dev Hospital stated in its report over a year ago that the government had suffered a loss of Rs 11 crore, no action had been taken against the guilty officials.

Road outside bus stand encroached upon
Amritsar, February 14
A major portion of the 135-foot wide road outside the city bus stand has been encroached upon by some persons. They have parked worn-out and under-repair trucks there due to which public is facing difficulty to walk and drive on this road.

BSF initiative to check border smuggling
Amritsar, February 13
In its endeavour to curb instances of border smuggling and stem the problem of drug addiction among the border youths, the Border Security Force has launched a number of civil action programmes involving villages located close to the India-Pakistan border fence.

MBBS students continue stir
Amritsar, February 13
Students of Government Medical College boycotted classes for the second consecutive day here today to protest the Medical Council of India's (MCI) proposal to increase the duration of the MBBS course from five and a half years to seven and a half years.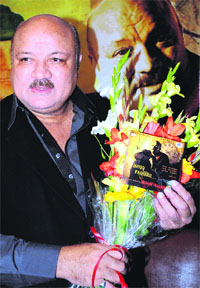 Singer Arun Bakshi launches another music album
Amritsar, February 14
Arun Bakshi, a popular face of the Bollywood, came calling to the city to release his music album. The actor-singer, who has been a part of over 100 films and has sung over 300 songs, launched his latest album titled 'Ishq Faqeeri' here. Interacting with the media, Bakshi said: "Whenever I used to interact with my fans, I observe that they only knew about the actor in me, and not realising that I have sung songs in Hindi, Punjabi and Bhojpuri films over the years. But this time, I came across a group on the social media talking about my singing and it was motivating enough for me."
Bollywood actor and singer Arun Bakshi during the launch of his music album in Amritsar on Friday. Photo: Vishal Kumar

BJP to back aided school teachers
Amritsar, February 14
State BJP chief Kamal Sharma has promised full support to the demand of the Aided School Teachers and Other Employees Union who have been seeking merger with the Education Department.
Students get farewell
Students of Class XI hosted a farewell party, 'Shaam-E-Rukhsat', for Class XII students at Government Senior Secondary School (girls), Mall Road, here. The event witnessed colourful performances by students. School Principal Mandeep Kaur gave best wishes to all students and exhorted them to achieve great heights of success in their lives.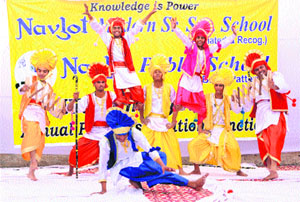 pride of punjab: Students perform bhangra during the annual function at Navjot Modern Senior Secondary School in Amritsar on Friday. A Tribune photograph
Fire incident: 2 booked in attempt to murder case
Amritsar, February 14
The fire instance in a cosmetic shop a couple of days ago took a curious turn today when the city police registered an attempt to murder case against two persons.
One booked for rape
Amritsar, February 14
The police have booked a person for allegedly raping a woman on the pretext of marrying her.
Programme on drug addiction
Amritsar, February 14
Rani Jhansi Society, an NGO, with the help of the BSF held a programme to make rural people aware of evil effects of drug addiction at border Kakkad village today.
Petrol station worker robbed of Ra 6 lakh
Amritsar, February 14
In yet another robbery incident, robbers allegedly snatched a bag containing over Rs 6 lakh from employees of a petrol pump owner late last evening.