Traders quiz political parties
Amritsar, April 8
The Punjab Pradesh Beopar Mandal (PPBM) has dispatched a questionnaire to all political parties in the region to influence their policies and to bring to their notice the problems being faced by the traders. PPBM president Amrit Lal Jain said the trades were struggling due to the economic slowdown and policies of the government.
Cong complains against MC official for 'campaigning' in poll
Amritsar, April 8
An official of the municipal corporation is in news for allegedly violating the electoral norms by campaigning in favour of the ruling party candidate contesting General Election here. Stating that Superintendent, House Tax Department, Vishal Wadhawan, has been misusing his official position while influencing residents to vote in favour of the SAD-BJP candidate, Arun Jaitley, the PPCC has lodged a complaint with the Chief Electoral Officer, Punjab, in this regard and has sought stern action against the official concerned
Jaitley should learn to stand on his own feet: AAP
Amritsar, April 8
Dr Daljit Singh, Aam Aadmi Party (AAP) candidate from Amritsar, today advised BJP candidate Arun Jaitley to learn to stand on his own feet. "Jaitley is contesting from Amritsar and trying to piggyback on the so called Modi wave. Jaitley is also piggybacking on the Badals, Majithia and sundry local BJP-SAD leaders. Many of these leaders have been rejected by the public. Bikramjit Singh Majithia was named in drug racket by Bhola who was the kingpin of the drug racket. It would have been better, if Jaitley had gone on his own instead of relying on others," he said.



invoking divine grace: The Congress candidate, Capt Amarinder Singh, during Ram Navmi celebrations at a temple in Amritsar on Tuesday. photo: vishal kumar

Security beefed up for poll
Amritsar, April 8
To provide foolproof security and ensure free and fair elections during Lok Sabha elections, the city has beefed up security in the city. Four teams of paramilitary forces, including the CISF and the CRPF, comprising around 400 jawans have been deputed along with the Punjab Police at every nook and corner especially at all the entry and exit points and cross-sections of the city. Besides the extra police force, women constables have also called for security reasons. These women cops will help in search operations of suspicious women elements.
'EU,US starting courses for Punjabi students'
Amritsar, April 8
Educational institutes of the European Union (EU) countries and the USA have opened up their educational course for the Punjabi students in general and a Amritsar in particular for variety of domestic reasons. KatjaFriedl International Sales Director, ISL Sprachschule, Koblenz, Germany, said a number of European countries have opened up their universities for non-European passport holders in recent years for a number of reasons.
City hospitals fail to follow guidelines
Amritsar, April 8
Government health institutions in the district seem to be insensitive towards the needs of senior citizens despite the government orders that there should be separate queues for senior citizens at registration counters.
Roads in city cry for attention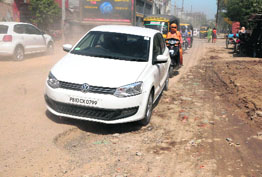 Amritsar, April 8
Many roads in the city are crying for attention. A resident of the Rattan Singh Chownk area, Jagdeepak Singh, said, "The roads in the area are in a bad condition. It would have been better if the MC had taken notice of it." The road from Ranjit Avenue to a city bypass is also in a bad shape. Commuters often complain of harrowing experience while plying on the road.

The road near Rattan Singh Chowk in a deplorable condition. photo: Vishal Kumar

15 samples of food fail quality test
Amritsar, April 8
As per the reports received by the Health Department from the food testing laboratory in Chandigarh, 15 food samples collected from various shops in the city in March failed on quality parameters. The department had collected 38 samples of food in March. Earlier, the department had collected 108 food samples from various shops in the district in the first two months of the year and 40 per cent of them had failed the quality test. District Health Officer Dr Shivkaran Singh Kahlon said 45 food samples had failed the quality test in January and February. He said action had been initiated against the owners of the shops. He said the department was running a vigorous campaign to check the sale of substandard food. TNS
Bhumi pujan at passport office site
Amritsar, April 8
The local passport office organised a 'bhumi pujan and ardas ceremony to begin the construction of a new Regional Passport Office building at the District Shopping Centre, Ajnala Road, here. The foundation stone for the building was laid by JS Sodhi, passport officer, Amritsar, in the presence of officials and staff of the passport office and the Passport Sewa Kendra. Sodhi said the contract for the construction of the building had been awarded by the Government of India, Ministry of External Affairs, New Delhi, to the National Buildings Construction Corporation Limited (NBCC), a Government of India enterprise for Rs 16,21,26,000. — TNS
Over 24,000 administered polio drops
Amritsar, April 8
Polio drops were administered to 24,161 children today. the teams visited 36,601 homes during the door-to-door campaign. About1,14,908 children were administered polio drops during the drive. — TNS