Cong flays attack on its office
Amritsar, April 15
Former Chief Minister and Congress candidate from Amritsar Capt Amarinder Singh and District Congress Committee (rural) president Gurjeet Singh Aujla today condemned the attack on the party's office near Ganda Singh Wala on Majitha Road a day before yesterday. Capt Amarinder dared the attackers to confront him, if they had the courage. He also asked the police to immediately arrest the culprits.
Capt fighting a losing battle: Majithia
align="left">Amritsar, April 15
Punjab Revenue Minister Bikram Singh Majithia today said Congress candidate Captain Amarinder Singh was fighting a losing battle. He said Captain had admitted that the Majitha area was a stronghold of the Akalis and he should understand that people of the rest of the areas in the state also believed in SAD's ideology.
BJP's stand vindicated: Balramji Tandon
Amritsar, April 15
Senior BJP leader Balramji Dass Tandon lashed out at the Congress for "belittling" the post of the Prime Minister. Tandon said the books of two close associates of Prime Minister Dr Manmohan Singh had vindicated the BJP's stand over the issue.
Government employees pledge to vote
Amritsar, April 15
Officials and employees of various government departments in the district took a pledge to exercise their franchise during the upcoming Lok Sabha elections on April 30.
Country's political system needs fine tuning, says santoor maestro
Amritsar, April 15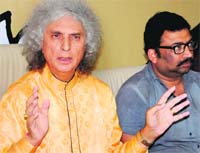 "I am not a politician, I am an artist." Pandit Shiv Kumar Sharma, santoor maestro and a Padam Shree recipient , dodged the political questions easily while interacting with mediapersons in the city. He was in Amritsar to attend the "greh pravesh" ceremony at BJP candidate Arun Jaitley's house . "I have family relations with Jaitley, so I was invited as a guest," he said.


Santoor maestro Shiv Kumar Sharma (left) interacts with mediaperson in Amritsar on Tuesday. photo: Vishal Kumar

Defunct ATMs bother commuters
Amritsar, April 15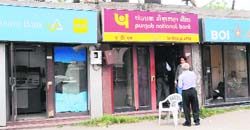 Passengers, tourists and commuters visiting the railway station are facing hardships in withdrawing cash from the automatic teller machines (ATM) as all the three ATMs installed on the station premises are not functioning.



A view of the three ATMs of nationalised banks at the Amritsar railway station. A Tribune Photograph

Experts discuss Indian economy at seminar
Amritsar, April 15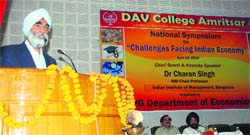 The Indian economy was facing large number of short-term challenges, including grim global economic environment restricting the potential for exports, rising government debt, current account deficit, fiscal deficit, unwinding of the unconventional monetary policy and rising inflation due to increase in food prices, said Professor of Indian Institute of Management (IIM), Bangalore, Dr Charan Singh.

IIM Prof Charan Singh gives a lecture on 'Challenges facing Indian economy' at DAV College in Amritsar on Tuesday. A Tribune Photograph

8 GNDU students clear PCS exam
Amritsar, April 15
As many as eight students of Guru Nanak Dev University (GNDU) have qualified the Punjab Civil Services [PCS (Judicial Services)] examination. The result of this examination was declared recently. Prof Rajinder K Marwaha, head of the Law Department, Regional Campus, Jalandhar, said out of six successful candidates, Chandan Hans and Gaurav Kumar did LLB from the Jalandhar campus whereas Ankit Aire, Deepal Singh Chinna, Arun Shorie and Rajinder Paul did five-year integrated law course.
Varsity celebrates Baisakhi
Amritsar, April 15
The Baisakhi festival was celebrated by the Department of Music and the Department of Lifelong Learning of Guru Nanak Dev University. Students of music and lifelong learning presented a cultural programme at the festival.
Maqboolpura de-addiction centre closed down for want of space
Amritsar, April 15
The drug de-addiction counselling centre at Maqboolpura, which was set up by the district administration last year, has been closed down for want of a building.
1 killed in mishap, mob torches bus
Amritsar, April 15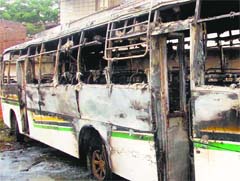 Two road mishaps took place in the city in the past 24 hours. In the first instance, the mob torched a bus after it crushed a cyclist to death. The accident took place on the Tarn Taran road this morning. The victim has been identified as 60-year-old Gurdeep Singh, a resident of Guruwali. He was going to pick his nephew from the school at about 2.30 pm when he was killed. The bus, belonging to a private company, was heading towards Bathinda.


The bus set on fire by the mob in Amritsar on Tuesday. photo: Vishal Kumar