Need to improve services at hospitals
Amritsar, April 12
Though the BJP candidate Arun Jaitley promised to open an AIIMS-like institution in the city, the public is grappling with staff shortage, unavailability of medicines and the unwillingness of government employees to perform their duties at hospitals in the constituency. The Lok Sabha constituency has 40 government health institutions, including Government Medical College, district Civil Hospital, ESI Hospital, Primary Health Centres, Community Health Centres and dispensaries.
India, Pakistan traders' conference concludes
Amritsar, April 12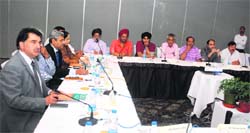 The Centre for Dialogue and Reconciliation (CDR), a Delhi-based organisation, held the India-Pakistan Trade Conference. The CDR has been organising the India-Pakistan Track II dialogues for several years.



Traders take part in an India-Pakistan trade conference in Amritsar Saturday. A Tribune photograph

Encroachments narrow down railway link road
Amritsar, April 12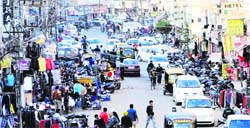 Many small business establishments have come up on the railway link road outside the local railway station. The area is known as Landa Bazaar or Chor Bazaar. The haphazard parking of vehicles and encroachments by vendors are rampant on this stretch. As the footpaths are hardly visible, people are being forced to walk on a narrow road.

A view of the railway link road in Amritsar. photo: Vishal Kumar

Dharna over 'police inaction'
Amritsar, April 12
Congress activists and advocates, Sandeep Gorsi and Vaneet Mahajan, along with their supporters today staged a dharna on Batala road over the alleged police inaction in a firing incident that occurred on March 17.
Farmers hold protest at Chabba village
Amritsar, April 12
The Kisan Sangharsh Committee (KSC) led a protest against the Punjab State Power Corporation Limited (PSPCL) at Chabba village today. The KSC stated that the Punjab police personnel prevented its members from delivering eatables to the protesting farmers.
Five-day art exhibition begins
Amritsar, April 12
The Wisdom Society of Creative Arts, New Delhi, organised an exhibition for promotion of arts and artists the city art gallery. The five-day exhibition will showcase works of over 80 artists from all over India. Over 125 art works are on display at the exhibition.
Illegal excavation stops at Guruwali village
Amritsar, April 12
The alleged illegal excavation in Guruwali village on the Amritsar-Tarn Taran road has been stopped after a news item regarding this was published in Amritsar Tribune recently.
Smuggling bid foiled, one arrested, three escape
Amritsar, April 12
Alert BSF jawans of 163-battalion thwarted yet another smuggling attempt of smugglers active alongside the Indo-Pak border and arrested an Indian smuggler from near the barbed fence in Mahwa border outpost.
Thieves targeting hospitals in city
Amritsar, April 12
The theft of goods from the kitchen of Employees State Insurance Hospital on Majitha Road has once again showed how government health institutions are an easy target for thieves.
Youth shot at in Bedadpura village
Amritsar, April 12
The dispute over presidentship of the students' body at the regional campus of Guru Nanak Dev University at Bedadpura village in Sathiala refused to settle down as another instance of firing was reported last evening.
Man beaten to death
Amritsar, April 12
A man was allegedly beaten to death by four person over the issue performing a "satsang" at a tomb in Vaironke village.The victim was identified as Beera Singh. The accused have been identified as Resham Singh, Gurpreet Singh, Dalbir Singh and Amrik Singh, all residents of vaironke village.
One arrested on rape charge
Amritsar, April 12
A 12-year-old girl was allegedly raped by her neighbour in Baba Deep Singh Colony on the Fatehgarh Churian road today. The police have arrested the accused, identified as Azad Singh, following the statement of the victim's mother.