On bypoll eve, Punjab & UT employees hold protest at Talwandi Sabo
Bathinda, August 18
The Punjab and UT Employees Sangharsh Committee held a protest march against the state government and demanding the acceptance of their long-pending demands at the grain market in Talwandi Sabo.
Leaders take to social media to garner support
Bathinda, August 18
If there a thread that binds Preneet Kaur, Partap Singh Bajwa, HS Adaltiwala, Manpreet Singh Badal, Baljinder Kaur and Balkar Sidhu in the run-up to the bypolls in Patiala and Talwandi Sabo, it is the use of social media to amass public vote and support. Social networking and media-sharing sites are come in handy when it comes to not only campaign for themselves or their party's candidates, but also for mud-slinging.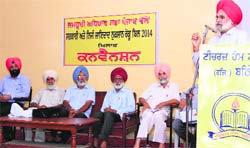 Social bodies flay govt move
Bathinda, August 18
Various social organisations today held a convention on the Prevention of Damage to Public and Private Property Act, 2014, that was passed by the Punjab Government in July.


A representative of a social organisation speaks during a convention in Bathinda on Monday. Tribune photo
BSP backs Balkar Sidhu
Talwandi Sabo, August 18
The Bahujan Samaj Party (BSP) today announced support to Balkar Sidhu for the Talwandi Sabo byelection. Sidhu is contesting the elections as an independent.
Rly station overbridge stairs in dilapidated condition
Bathinda, August 18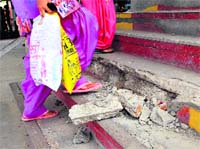 Passengers at the city railway station are facing several problems and it seems the railway officials are least bothered about them. The Railways had constructed an overbridge at the station sometime ago, which is widely used by the passengers to go from one platform to another.



Broken stairs of the railway station overbridge in Bathinda. Tribune photo
Close shave for jail inmate as his clothes catch fire
Bathinda, August 18
An inmate of the Central Jail had a narrow escape when his clothes caught fire today inside the jail premises. The inmate's clothes caught fire. When the news spread inside the jail, there was chaos all around.
Bathinda police's fuel bill shoots up
Bathinda, August 18
To meet the expenses on petrol and diesel of the police, a special election fund of Rs 35 lakh has been sanctioned by the state government.
'Kaum De Heere' based on true events: Producer
Bathinda, August 18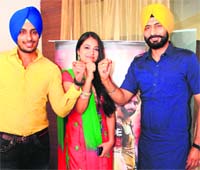 "Kaum De Heere will set a milestone in the Punjabi film industry as it is the first film based on the true events of 1984. The film will change the perspective with which the audience watches Punjabi films," said Satish Katyal, producer of the film, during a promotional event in the city today.




Star cast of the movie "Kaum De Heere" during the promotion of their film in Bathinda on Monday. Tribune photo
RBDAV School holds photography exhibition
Bathinda, August 18
On the eve of World Photography Day, a three-day photography exhibition was organised at RBDAV Senior Secondary School. Educationist and social worker Sudesh Gandhar and Rani Josan inaugurated the exhibition today.
Army team takes part in tank biathlon in Russia
Bathinda, August 18
A team of the Indian Army team from the Chetak Corps participated in International Tank Biathlon in Russia. The tank biathlon is an international tank crew sport invented by the Russian military. The tank biathlon is a competition, showcasing international cooperation and military prowess. It is similar to a regular biathlon.
Gas agency pays compensation
Bathinda, August 18
A Bhucho Mandi-based gas agency today paid Rs 91,704 as compensation to Tara Chand, a resident of Kachi Bhucho.
Forum slaps fine of Rs 31,000 on courier companies
Bathinda, August 18
Two courier companies that failed to deliver a parcel containing important immigration documents supposed to reach the Canadian Embassy in Colombo (Sri Lanka) have been directed to pay Rs 31,120.