Abhimanyu targets debt to revive Haryana
Chandigarh, November 13
The Haryana State Industrial and Infrastructure Development Corporation is in the red, under Rs 7,000 crore of debt projected for the yearend.
Nostalgic Haley offers trade support to Punjab
Chandigarh, November 13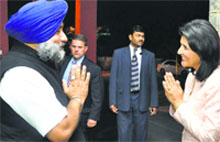 The youngest of current US Governors, Nikki Haley (42), today promised South Carolina's support to Punjab in setting up aerospace, pharma, tourism and agro-processing industries.
Punjab Deputy CM Sukhbir Badal greets Nikki Haley, Governer, South Carolina, in Chandigarh on Thursday. A Tribune photograph


India, ASEAN must team up to tackle terrorism: Modi
Says world must not link religion, terror * Pushes for regional integration
Naypyitaw, November 13
Prime Minister Narendra Modi today asserted that the world community must reject any linkage between religion and terrorism while formulating a "genuinely international" partnership in the fight against all forms of terror acts.
Army convicts two officers, 5 others
November 13, 2014
SC raps govt on spurious milk, wants law in winter session
November 12, 2014
Day after rejig, Modi under fire over 'tainted' ministers
November 11, 2014
21 more join Team Modi; Sena keeps off
November 10, 2014
Modi govt's first Cabinet rejig today
November 9, 2014
Budgam firing a mistake: Army
November 8, 2014
Modi set to expand Council of Ministers on Sunday
November 7, 2014
FM promises easy land acquisition
November 6, 2014
Govt paves way for Delhi polls
November 5, 2014
Toll mounts to 61; Pak put on high alert
November 4, 2014