Murder charge framed against Bibi
Patiala, March 20
Murder charges were framed against Bibi Jagir Kaur and six others for killing Harpreet Kaur, the former SGPC President's daughter, in a local court here today.
Former SGPC President Bibi Jagir Kaur is produced in the Patiala Sessions Court on Wednesday.
— PTI photo
Ministers' kin face demotion
Chandigarh, March 20
The Haryana Assembly today adopted a Bill which will have a direct bearing on the close relatives of at least two Ministers of State.
In Science Tribune today

THE TRIBUNE MAGAZINES
On Mondays

On Sundays
On Saturdays

IN PASSING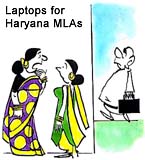 My husband was cheated. Instead of a suitcase he brought a laptop!

by Sandeep Joshi
HC grants pre-arrest bail to VC
Chandigarh, March 20
Issuing notice of motion for April 3, Mr Justice M.L. Singhal of the Punjab and Haryana High Court today ordered that Punjabi University Vice-Chancellor, Dr Jasbir Singh Ahluwalia, will not be arrested till then in the Saru Rana case.
2 kids die in blast
Srinagar, March 20
Two children have been killed and five injured in separate incidents in Kashmir since yesterday. The police here said two children were killed on the spot and five others were injured when an explosive device went off on the Doraswani and Tikipora road in the Sogam area of Kupwara district today.
IAF mum on Bhatia's plea
New Delhi, March 20
The Air Marshal Sekhon issue continues to rock the Indian Air Force with reports now emerging that Air Marshal V.K. Bhatia, Air Officer Commanding-in-Chief of the Western Air Command, is seeking a fresh probe into his possible crossing of the Line of Control in the Kargil region last month.


TRIBUNE IMPACT
Jalandhar MC comes out of slumber
Imposes fine of Rs 22.53 lakh on school management
Jalandhar, March 20
Taking a tough stand towards those educational institutions which were raising huge buildings in violation of the Punjab Municipal Corporation Act, the Jalandhar Municipal Corporation has finally slapped a penalty to the tune of about Rs 22.53 lakh on the management of the local C.T. Public School, which had allegedly constructed a huge school complex spread over 14 acres of land at Maqsudan near here, sans any sanctioned building plan.
Sekhon forced to retire
March 20, 2002

PM vows fair poll in J&K
March 19, 2002

Godhra carnage mastermind held
March 18, 2002

Flareup claims 5 lives in Gujarat
March 17, 2002

Shila daan at akhara
March 16, 2002

SC clarifies Ayodhya order
March 15, 2002

SC orders status quo in Ayodhya
March 14, 2002

Major climbdown by VHP
March 13, 2002

No puja till SC verdict: PM
March 12, 2002

CRPF flag march in Ayodhya
March 11, 2002