Indo-Pak border, April 12
The fresh aroma of wheat emanating from the mineloaded fields does not bring cheers on the faces of farmers in the border belt comprising Amritsar, Gurdaspur and Ferozepore.
A farmer harvests wheat in a border village of Amritsar district on the eve of Baisakhi. He is unable to reap the crop across the fence where mines have been laid. — Photo Rajiv Sharma
THE TRIBUNE MAGAZINES
On Mondays

On Sundays
On Saturdays

IN PASSING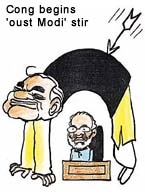 by Sandeep Joshi
HP abolishes ST on fertilisers
Shimla, April 12
The 4 per cent general sales tax on chemical fertilisers was today abolished by the Himachal Pradesh Cabinet to benefit the farmers. The decision was taken by the Cabinet which met under the chairmanship of the Chief Minister, Mr Prem Kumar Dhumal.
UCO Bank looted
Jalandhar, April 12
In a sensational broad daylight bank robbery, two unidentified robbers managed to slip off with a whopping Rs 16.53 lakh from the extension counter of UCO Bank at Model House locality here this afternoon. As the crime graph of the city had been going up for the past fortnight, the robbery put a question mark on the efficiency of the police and security arrangements of banks in the city.



Chandigarh, April 12
Tall claims of the government on technical education and industrial training notwithstanding, 10 ITIs and six polytechnics in Punjab, completed three to five years ago, are being used only for grazing cattle.

A lone cow grazes on the campus of the ITI building at Shahkot in Jalandhar district.
In Sports Tribune today

Ban on LTTE to stay
April 12, 2002

Ultras massacre five
April 11, 2002

PM wants security framework for Asia
April 10, 2002

7 villagers massacred
April 9, 2002

BJP-BSP tie-up in UP on cards
April 8, 2002


CPI wrests Malout seat
April 7, 2002


Vajpayee suggests more powers for panchayats
April 6, 2002

Put end to violence: PM
April 5, 2002

Five burnt alive in Gujarat
April 4, 2002

Sikhism favoured as separate religion
April 3, 2002

Punjab, Haryana CMs clash over water
April 2, 2002