New Foreign Secretary

Kanwal Sibal, Secretary (West), Ministry of External Affairs, will be the new Foreign Secretary. He will replace Chokila Iyer on July 1. Ms Iyer is due for superannuation on June 30, an official press note said. TNS
LS adjourned for lack of quorum
New Delhi, April 26
Lack of quorum today forced the Chair to adjourn the Lok Sabha abruptly this afternoon at 4.45 pm during the discussion on the finance Bill. Despite the repeated efforts by the government and BJP Chief Whip Vijay Kumar Malhotra the requisite numbers could not be mustered.
12 killed in Pak mosque blast
Islamabad, April 26
A bomb killed 12 women and children in a mosque in central Pakistan overnight at a gathering of thousands of Shi'ite Muslims, hospital officials said today.
THE TRIBUNE MAGAZINES
On Mondays

On Sundays
On Saturdays

IN PASSING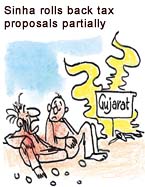 Now they should appoint Sinhaji as Gujarat CM to roll back the present situation!

by Sandeep Joshi
Pak bunkers destroyed
Twelve militants shot in Jammu & Kashmir
Jammu, April 26
Twelve Pakistani bunkers were destroyed and an unknown number of Pakistani regulars killed when Indian soldiers opened retaliatory artillery fire on frontier Pakistani positions across the Line of Control in the Nowshera sector of Rajouri district on Friday.
Ex-pupil kills 18 in German school
Erfurt, Germany, April 26
Eighteen persons were killed in a bloodbath at a German school on Friday when an armed former pupil opened fire, police said.
SGPC Secy Bachan quits in protest
Amritsar, April 26
The supreme body of the Sikhs, the SGPC, was today embroiled in a controversy when its Executive Committee at its meeting held in gurdwara Alamgir, Ludhiana, decided to retire all employees who have crossed the age of 58.



But for an uncle, all desert Ravi Sidhu
Psychiatrist to examine PPSC chief's low morale
Patiala, April 26
Punjab Public Service Commission Chairman Ravinder Pal Singh Sidhu seems to be showing an interest in his principal avocation of journalism while in jail. He remains busy scanning both English and vernacular papers even as he has lost the battle to get medical treatment from either Chandigarh or Delhi.

Punjab page: IT Dept moves special court


PPSC members for transparency


Mayawati to be UP CM
April 26, 2002

Sidhu helped people at Badal's behest: Jagman
April 25, 2002

Censure move on Gujarat admitted
April 24, 2002

Ahluwalia sacked as VC
April 23, 2002

13 killed, curfew in Gujarat areas
April 22, 2002

NDA not a divided house: Vajpayee
April 21, 2002

PM dares Oppn to table no-trust move
April 20, 2002

BJP Parliamentary Board to decide on UP Govt
April 19, 2002

Gujarat Cabinet puts off decision on elections
April 18, 2002

TDP writes to LS Deputy Speaker
April 17, 2002

NDA crisis blows over
April 16, 2002