IN PASSING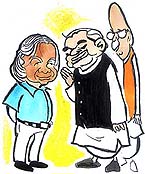 Tell me Kalam, is there any way out to tackle unguided political missiles ?

by Sandeep Joshi
BKU to lift road blocks
Chandigarh, June 17
The Bharatiya Kisan Union (BKU) today decided to lift road blocks following a broad agreement reached between the BKU and state government during the second round of talks held between the two in Jind today.

Haryana: Cong 'shanti padyatra' reaches Sampla
CM firm on ending corruption
Chandigarh, June 17
The Punjab Chief Minister, Capt Amarinder Singh, today said Akalis led by former Chief Minister, Parkash Singh Badal were trying to divert public attention away from corruption by raising the bogey of "deteriorating law and order situation" in the state.
Kargil out of bounds for Bakerwals
Jammu, June 17
The future of over 700 Gujjars and Bakerwals and 50,000 head of sheep, goats and horses is uncertain as they have been debarred from entering the Suru valley in Ladakh. The Bakerwals have come from various areas of the Jammu region and trekked difficult mountain terrain from Kishtwar to Wardwan with the purpose of spending five months in the Suru valley.

J&K poll: EC to send observers
Srinagar, June 17
Even as the dates for Assembly elections in Jammu and Kashmir have not been finalised, preparations are on for smooth conduct of the elections, scheduled to be held by October this year. Election observers will be sent to the state shortly, Chief Election Commissioner J.M. Lyngdoh said here today.
Militants massacre 5 in Udhampur, 6 in Doda
June 17, 2002

Farooq escapes attack
June 16, 2002

India rules out foreign troops for Kashmir
June 15, 2002

Congress falls into line on Abdul Kalam
June 14, 2002

USA offers ground sensors for LoC
June 13, 2002

Front splits as SP supports Kalam
June 12, 2002

India lifts ban on Pak flights
June 11, 2002


Geelani arrested under POTA
June 10, 2002


UAV goes missing
June 9, 2002


India to wait & watch
June 8, 2002


Battered staffer returns home
June 7, 2002


India ready for joint patrolling on LoC: PM
June 6, 2002