THE TRIBUNE MAGAZINES
On alternate Mondays

On Sundays
On Saturdays

Heavy polling at Salahuddin's village
Srinagar/Budgam, September 24
With the shadow of the last night's incident in Gaugji Bagh looming large, most voters in downtown Srinagar abstained from poll. The electorate in the city area, where Gaugji Bagh is also located, was concerned about how the dreaded militants made their way into the area guarded by a CRPF post.
Holed-up ultras in Srinagar killed
Srinagar, September 24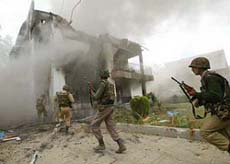 The 16-hour-long siege of a residential house in the Gogji Bagh locality here, which started with an attack on a police party last evening, ended as the charred body of a suspected militant was found this morning.

BSF jawans storm a building in Srinagar on Tuesday to flush out militants holed up inside. — Reuters photo


In video (28k, 56k)


SPECIAL EDITORIAL
J&K: a neat operation
Hari Jaisingh
TUESDAY'S early morning operation by the security forces against Jamiat-ul-Mujahideen militants in the Wazirbagh area of Srinagar was different from earlier such events on three counts. One, it showed what a determined and coordinated team of the Border Security Force, the Central Reserve Police Force and the state police can achieve against all odds in the fight against terrorism.
In Health Tribune today

Ultras kill cop, take 3 hostage on poll eve
September 24, 2002

Diplomatic efforts to bring back Abu Salem
September 23, 2002

Efforts on for Abu's extradition
September 22, 2002

Salem nabbed in Lisbon
September 21, 2002

Militants attack school
September 20, 2002

Return presidential reference, pleads EC
September 19, 2002

Grenade attack on Cong HQ
September 18, 2002

Vajpayee rejects LoC as international border
September 17, 2002

Polling in 23 J&K constituencies today
September 16, 2002

Stop infiltration, Bush tells Pervez
September 15, 2002

Vajpayee unmasks Musharraf's duplicity
September 14, 2002