THE TRIBUNE MAGAZINES
On alternate Mondays

On Sundays
On Saturdays

IN PASSING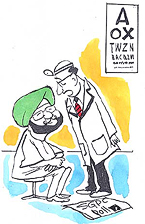 "You need special attention, Captain Sahib. You are reading every line as SGPC."

by Sandeep Joshi

NDA team to give report to PM


Badal's nephew ferried SGPC members
What constitutes Golden Temple complex?
Chandigarh, November 11
Punjab Chief Minister Amarinder Singh at a Press conference today denied media reports on police entry into the Golden Temple complex at Amritsar on Sunday saying, "It is incorrect to say that the police entered the Darbar Sahib complex and that only serais, adjoining SGPC offices, were searched and got vacated.
SGJC orders stayed
12 SGPC members to cast vote
Chandigarh, November 11
Staying the operation of the orders passed by the Sikh Gurdwara Judicial Commission restraining at least 12 Shiromani Gurdwara Parbandhak Committee members from exercising their franchise during the elections scheduled to be held tomorrow, a Division Bench of the Punjab and Haryana High Court today directed that the votes polled by them would not be counted till further orders.

SC orders status quo in SGJC case


Badungar, Talwandi likely candidates
Avoid hurting Sikhs: Sonia tells CM
New Delhi, November 11
Congress President Sonia Gandhi today directed Punjab Chief Minister Amarinder Singh not to let any untoward incident take place during tomorrow's SGPC elections which could hurt the religious sentiments of the majority community in the state.


Business page: Gates offers $ 100 m grant to fight AIDS



Bill Gates, co-founder of the Bill & Melinda Gates Foundation, receives traditional greetings from Jyoti Chaudhry, who works at Naz Care, home for people with HIV/AIDS, as he arrives at the centre in New Dehli on Monday. Gates is travelling in India this week in part to learn about the country's AIDS situation, and to meet with Indian officials working on efforts to combat the disease. — Reuters
In video (28k, 56k)

Probe panel clears Sunita
New Delhi, November 11


Sunita Rani can breathe easy. The one-man Sushil Dutt Salwan Commission, appointed by the Amateur Athletic Federation of India, to probe into the Sunita Rani doping case, has exonerated the athlete of any wrong doing. And AAFI president Suresh Kalmadi has promised to "strongly take up the case of Sunita Rani" to get her name cleared of the doping stigma.


In video (28k, 56k)
Police enters Golden Temple complex
November 11, 2002

All entry points sealed
November 10, 2002

Pre-dawn swoop on SAD workers
November 9, 2002

4 pro-Badal members debarred from voting
November 8, 2002

BJP rebels shelve plan to float party
November 7, 2002

UP rebels to float new outfit
November 6, 2002

Return of Pandits top priority: Mufti
November 4, 2002

Kelkar for 1 lakh as IT exemption limit, 2 slabs
November 3, 2002

SP stakes claim to form government
November 2, 2002

Keep off admissions to MEIs, SC tells govt
November 1, 2002