THE TRIBUNE MAGAZINES
On alternate Mondays

On Sundays
On Saturdays

IN PASSING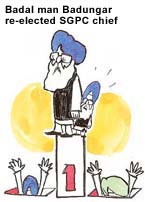 by Sandeep Joshi
NEWS ANALYSIS
This 'win-win' game at Golden Temple complex
Chandigarh, November 12
In common parlance called the 'mini-Parliament', the SGPC, has over the years become a symbol of supremacy and power in Sikh affairs. It is this fact which has resulted in factional fights among the Akalis with the ruling establishment, whether of the Congress or the ruling faction of the Akalis.
PM clears Sikh jatha
New Delhi, November 12
Prime Minister Atal Behari Vajpayee gave the green signal here tonight for a token jatha of 50 persons to visit Nankana Sahib in Pakistan to take part in the birth anniversary celebrations of Guru Nanak Dev on November 19.
Tension grips Gujarat
Ahmedabad, November 12
Tension prevailed in parts of Gujarat today after yesterday's violence at three places in which the toll rose to six overnight. Tight security arrangements were in place at Rajkot in view of the third one-day international cricket match between the West Indies and India.





Police patroling near burnt shop in Madhu village of Kehada district in Ahmedabad on Monday where 12 shops were burnt and 2 peoples

reported killed during violence. — PTI photo


No more questioning of rape victims
New Delhi, November 12
In a far-reaching decision providing respite to a rape victim, the Centre today approved an amendment that would prevent the cross-examination of a woman on her moral character in a rape case. "The unrestrained questioning of the prosecutrix can destruct the reputation and self-respect of the woman and intensify her trauma. It has been decided to amend the Indian Evidence Act by removing this provision," Information and Broadcasting Minister Sushma Swaraj told newspersons.
Unprecedented security for SGPC poll
November 12, 2002

Police enters Golden Temple complex
November 11, 2002

All entry points sealed
November 10, 2002

Pre-dawn swoop on SAD workers
November 9, 2002

4 pro-Badal members debarred from voting
November 8, 2002

BJP rebels shelve plan to float party
November 7, 2002

UP rebels to float new outfit
November 6, 2002

Return of Pandits top priority: Mufti
November 4, 2002

Kelkar for 1 lakh as IT exemption limit, 2 slabs
November 3, 2002

SP stakes claim to form government
November 2, 2002