THE TRIBUNE MAGAZINES
On alternate Mondays

On Sundays
On Saturdays

IN PASSING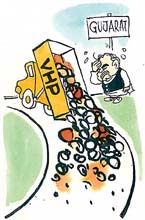 by Sandeep Joshi
US N-panel chief to visit India
New Delhi, November 16
Dr Richard A. Meserve, Chairman of the United States Nuclear Regulatory Commission, is coming here soon in a path-breaking visit which will take strategic ties between New Delhi and Washington from strength to strength.
Dalits attacked in Panipat village
Panipat, November 16
Close on the heels of the lynching of five Dalits in Dulina of Jhajjar district, houses of about 25 Dalits and members of a minority community were vandalised and several women assaulted and injured at Nawada Aar village, 22 km from here on the UP-Haryana border, allegedly by hooligans of upper castes in the wee hours of yesterday.

Haryana page: Jhajjar blockade continues
11 pilgrims die in road mishap
Paonta Sahib, November 16
Eleven pilgrims were killed and 32 injured when the truck (RJ 13 G-2001) they were travelling in, which was bound for Lahra Dhurkot in Bathinda district from here, met with an accident reportedly due to the failure of brakes near Lal Dhang on the Himachal-Haryana border today.



Mufti's image worries pro-Pak forces
Jammu, November 16
When a police officer, in civil dress, visited a shopping complex in Srinagar recently for purchasing items for domestic use, he was accompanied by his gunmen in a police vehicle. As he came out of a shop a couple of businessmen shouted at him "Khoja (Khwaja Sahib) keep the National Conference vehicle somewhere else."
In Her World today

VHP rejects PM's appeal
November 16, 2002
VHP firm on yatra
November 15, 2002
EC bans VHP yatra
November 14, 2002
Badungar re-elected SGPC chief
November 13, 2002
Unprecedented security for SGPC poll
November 12, 2002

Police enters Golden Temple complex
November 11, 2002

All entry points sealed
November 10, 2002

Pre-dawn swoop on SAD workers
November 9, 2002

4 pro-Badal members debarred from voting
November 8, 2002

BJP rebels shelve plan to float party
November 7, 2002