THE TRIBUNE MAGAZINES
On alternate Mondays

On Sundays
On Saturdays

IN PASSING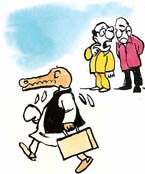 How do you know he is a candidate for the Gujarat poll?

by Sandeep Joshi
Govt wants death for rapists
New Delhi, November 26
In a significant statement of intent, Deputy Prime Minister L.K. Advani today assured the Lok Sabha that the government was in favour of death sentence for rapists and would like to enact a law after evolving a consensus on the issue.
SAD's 'jail bharo' today
Chandigarh, November 26
The SAD is all set to court mass arrests in Punjab tomorrow in support of its 15-point charter of demands it had sent to the government on October 20. The one-day 'jail bharo' programme is also to focus the people's attention on the government ''injustice, tyranny and repression'' , says party chief, Parkash Singh Badal.



Badal takes refuge in gurdwara

Guwahati lawyers don't want Justice Gill
Guwahati, November 26
In an unprecedented show of defiance against the judiciary, advocates of Guwahati High Court have refused to accept a "tainted judge" from Punjab. The drama is centered around the transfer of Mr Justice Amarbir Singh Gill of the Punjab and Haryana High Court who has recently been in a controversy regarding the PPSC scandal.


PM may lodge protest with Pak


Anti-India propaganda by radical Sikhs
Amritsar, November 26
Even as the "five most wanted" radical Sikh leaders were conspicuous by their absence during Gurpurb celebrations in Pakistan, Prime Minister Atal Behari Vajpayee is likely to lodge a protest with Gen Pervez Musharraf, President of Pakistan, for allowing certain foreign-based Sikhs to carry out propaganda against India.


In video (28k, 56k)
Temple terror ends
November 26, 2002

Raghunath Temple attacked, 12 dead
November 25, 2002

12 die as militants blow up bus
November 24, 2002

7 CRPF men die in Lashkar attack
November 23, 2002

POTA on hold in J&K
November 22, 2002

A go-by to House decorum
November 21, 2002

Modi opts for 'safe' Maninagar seat
November 20, 2002

Cong Gujarat list sans Vaghela
November 19, 2002

SC Judge to examine cases against 3 HC Judges
November 18, 2002

Togadia's entry banned
November 17, 2002