THE TRIBUNE MAGAZINES
On alternate Mondays

On Sundays
On Saturdays

IN PASSING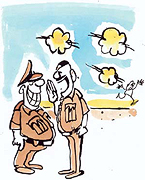 No terrorist activity, Sir. Mr Advani and Mr Mufti are responding to each other!

by Sandeep Joshi
Technical faults behind MiG crashes: George


New Delhi, November 27
Contrary to a recent assertion by Defence Minister George Fernandes that no technical defects had been found in the MiG fighter aircraft, the facts presented in Parliament point out that there has been a drastic increase in the number of MiG-21 aircraft accidents due to "technical defects".

No flying coffins, says air chief
Khaleda govt aiding ultras: Hasina


New Delhi, November 27
Former Prime Minister of Bangladesh Sheikh Hasina today accused the Khaleda Zia government of patronising terrorism and asked India and Bangladesh to resolve issues of illegal immigrants and the anti-Indian campaign in Bangladesh through talks.



In video (28k, 56k)



Nation page: Dhaka ISI nerve centre: Sinha

Protest against 'tainted' judge's appointment
Guwahati, November 27
Advocates of the Guwahati High Court today staged a demonstration here protesting the proposed transfer of a "tainted judge" from Punjab to Assam in the first fallout of the cash-for-jobs scam outside that state.
Mann seeks Pak help for Sikhs in India
New Delhi, November 27
In a letter dated October 30, 2002, written to Pakistan's Deputy High Commissioner Jalil Abbas Jilani, Mr Simranjit Singh Mann, MP, has made insinuations that Sikhs in India were not being allowed to practise their faith and has sought his help "formally and informally in speaking to our rulers in allowing us Sikhs to practise our faith."


Raghunath Temple reopens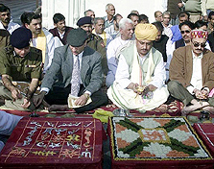 Jammu, November 27
After three days the Raghunath Temple was reopened today. The temple doors were thrown open to the devotees after performing " shudhi karan".
Prayers being held to purify Raghunath Temple at Jammu on Wednesday following the terrorist attack on Sunday. — Photo Amin War

Mufti acted against advice: Advani
November 27, 2002
Temple terror ends
November 26, 2002

Raghunath Temple attacked, 12 dead
November 25, 2002

12 die as militants blow up bus
November 24, 2002

7 CRPF men die in Lashkar attack
November 23, 2002

POTA on hold in J&K
November 22, 2002

A go-by to House decorum
November 21, 2002

Modi opts for 'safe' Maninagar seat
November 20, 2002

Cong Gujarat list sans Vaghela
November 19, 2002

SC Judge to examine cases against 3 HC Judges
November 18, 2002