THE TRIBUNE MAGAZINES
On alternate Mondays

On Sundays
On Saturdays
IN PASSING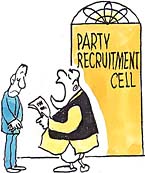 Sorry. You are rejected. Your blood count shows 68 per cent "pure" and 32 per cent "pseudo"!
by Sandeep Joshi
BSNL likely to slash STD tariff
New Delhi, January 6
State-owned telecom behemoth Bharat Sanchar Nigam Limited is seeking to bludgeon the competition unleashed by cellular phone operators and is expected to announce a matching tariff regime by the end of this week.
History has been misinterpreted: PM
Mumbai, January 6
Prime Minister Atal Behari Vajpayee today lashed out at opposition parties for criticising the Union government's efforts in rewriting history books, saying it was time students got a right perspective of education.


Asia's longest ropeway by year-end
Gulmarg, January 6
The Gulmarg Gondola project will become Asia's highest and longest ropeway, when its second-phase is completed by the end of this year. The 2.5 km-long ropeway project functional between Gulmarg and Kongdori since 1998, is a major attraction for tourists.



A cable car passes over snow-covered mud huts in Gulmarg 52 km northwest of Srinagar, on Monday. — Photo Amin War


Mother tongue emerges winner
Chandigarh, January 6
The mother tongue — Punjabi — emerged winner at today's meeting of experts, and administrators called by the Punjab Government to thrash out whether the teaching of the mother tongue and English should start simultaneously from Class I or the latter should be introduced at a higher level.
Centre clears dual citizenship
January 6, 2003
PM to control N-trigger
January 5, 2003
Bihar in flames
January 4, 2003
Cell operators slash STD charges
January 3, 2003
India, Pak exchange lists of N-installations
January 2, 2003
Shimla wears a white blanket
January 1, 2003

We were ready for war: Gen
December 31, 2002
Leh council gets full powers
December 30, 2002
Taliban shift bases to Pak: Advani
December 29, 2002
Kelkar retains harsh proposals
December 28, 2002
MiG crashes into house
December 27, 2002