THE TRIBUNE MAGAZINES
On alternate Mondays

On Sundays
On Saturdays
IN PASSING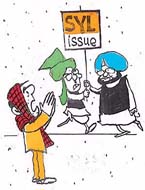 We don't want to suffer in this cold wave. Will you please keep this hot issue alive?

by Sandeep Joshi
SYL MEETING
SAD to boycott, SHSAD to attend
Alamgir, January 7
The Political Affairs Committee of the Shiromani Akali Dal today decided to boycott the all-party meeting called by the Punjab Chief Minister, Capt Amarinder Singh, tomorrow, terming it a "farce". The party will oppose any attempt to dilute the state's case or rob it of its legitimate riparian rights.
Punjab BJP leaders to meet PM




BSNL, MTNL cut STD tariff
New Delhi, January 7
State-owned telecom giants Bharat Sanchar Nigam Limited and Mahanagar Telephone Nigam Limited today joined the tariff war in mobile telephony, with the former slashing STD rates to Rs 4.80 per minute from the existing peak rate of Rs 9 per minute.


7 Haryana youths in Pak jail
Chandigarh, January 7
It is yet another story of exploitation of unemployed youths by human smugglers in the guise of manpower agents, who, instead of getting their unsuspecting clients through to Greece, the promised destination, landed them in a series of jails, including Quetta in Pakistan.
Dear readers

We are starting a new column in Science Tribune from January 9 in which eminent scientist Prof Yash Pal will answer readers' queries regarding various scientific phenomena.

Questions for the column "Explore the Universe with Prof Yash Pal" can be sent to Editor, Science Tribune, The Tribune Group of Newspapers, Sector 29-C, Chandigarh or e-mailed to editor@tribuneindia.com

— Editor
Centre against disbanding SOG
January 7, 2003
Centre clears dual citizenship
January 6, 2003
PM to control N-trigger
January 5, 2003
Bihar in flames
January 4, 2003
Cell operators slash STD charges
January 3, 2003
India, Pak exchange lists of N-installations
January 2, 2003
Shimla wears a white blanket
January 1, 2003
We were ready for war: Gen
December 31, 2002
Leh council gets full powers
December 30, 2002
Taliban shift bases to Pak: Advani
December 29, 2002