IN PASSING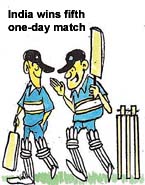 Thank God. My ad managers were threatening to write me off!
by Sandeep Joshi

HP poll in Feb: Lyngdoh
Shimla, January 8
Mr J. M. Lyngdoh, Chief Election Commissioner, today stated that the schedule for the Himachal Assembly elections to be held in February would be announced soon. The dates for poll in the tribal areas, would depend on the snow factor.

In video: (28k, 56k)
Row over Pak N-scientists deepens
Islamabad, January 8
The controversy over some Pakistan nuclear scientists collaborating with countries listed as "axis of evil" by the USA has deepened further with the media here today publishing contents of a brochure allegedly by its top nuclear scientist D Abdul Qadeer Khan offering nuclear technology to other nations.
Amartya, Naipaul may get citizenship
New Delhi, January 8
More than 1000 eminent members of the Indian diaspora from over 46 countries will converge here tomorrow for the first Pravasi Bharatiya Divas, an annual event held in recognition of the significant role played by NRIs and people of Indian origin (PIO) in nation-building.


V.S. Naipaul


Amartya Sen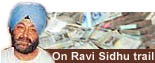 Advani: deport overstaying Pakistanis, Bangladeshis
January 8, 2003
Centre against disbanding SOG
January 7, 2003
Centre clears dual citizenship
January 6, 2003
PM to control N-trigger
January 5, 2003
Bihar in flames
January 4, 2003
Cell operators slash STD charges
January 3, 2003
India, Pak exchange lists of N-installations
January 2, 2003
Shimla wears a white blanket
January 1, 2003
We were ready for war: Gen
December 31, 2002
Leh council gets full powers
December 30, 2002