THE TRIBUNE MAGAZINES
On alternate Mondays

On Sundays
On Saturdays
BJP panel submits report
Kelkar proposals
New Delhi, January 20
The Rajnath Singh Committee on Kelkar recommendations on direct and indirect taxes has favoured raising the personal income tax exemption limit without removing the standard deduction for salaried class.
Contracts issue: HC order on January 22
New Delhi, January 20
The Delhi High Court will pronounce its judgement on a petition challenging the controversial ICC players' contract on January 22. A Bench comprising acting Chief Justice Devinder Gupta and Mr Justice B.D. Ahmed reserved the order for January 22 after a nearly three-hour hearing today.
Ex-Akali Minister Ajnala booked
Vigilance Bureau raids house
Amritsar, January 20
The Punjab Vigilance Bureau booked another former Akali Minister, Dr Rattan Singh Ajnala for having assets, disproportionate to his known source of income.
IAS officer, colleague's wife in police net?
Panchkula, January 20
A senior Punjab IAS officer and the wife of another very senior Punjab IAS officer had to spend about three hours in the Sector 5 police station here tonight. They were brought to the police station by certain Haryana police officials posted here.


KIDNEY RACKET
Addresses in 34 cases 'fake'
Jalandhar, January 20
Tightening its noose around doctors and middlemen involved in the Rs 100 crore kidney racket, the Special Investigation Team has identified 34 cases of kidney transplant in the records of Kakkar Hospital, Amritsar, wherein the addresses of recipients and donors were found to be fake, thus, virtually establishing the involvement of members of the Authorisation Committee in the racket.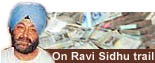 Indian diplomat harassed in Pak
January 20, 2003
LeT turning global
January 19, 2003
Cabinet reshuffle in 2 phases likely
January 18, 2003
Shinde to replace Deshmukh
January 17, 2003
Cabinet Secy convenes meeting on SYL
January 16, 2003
Chautala, MPs meet PM on SYL
January 15, 2003
Punjab moves SC on SYL
January 14, 2003
BSF thwarts ISI's bid to dig tunnel
January 13, 2003
HP elections on Feb 26
January 12, 2003
Norms for overseas investment eased
January 11, 2003