THE TRIBUNE MAGAZINES
On alternate Mondays

On Sundays
On Saturdays
IN PASSING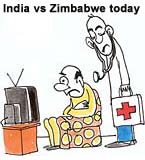 by Sandeep Joshi
Sehwag likely to come as opener


Harare, February 18
India face the moment of truth against Zimbabwe in a critical group 'A' match of the World Cup here tomorrow, a tie they must win to remain in contention for the Super Six round. India are struggling to regroup and hit the right batting order in a desperate search for victory.
Virender Sehwag during a practice session in Harare on Monday.
— AP/PTI photo

Sports page:

We have a good chance against India: Andy Flower

Tendulkar assures fightback

Ganguly's stubbornness has added to misery
Bathinda refinery on schedule
New Delhi, February 18
Minister for Petroleum Ram Naik today said that "mechanical completion" of work on HPCL refinery at Bathinda would be completed on schedule in December 2006 and that the decision to disinvest in the public sector company would in no way effect the work on the refinery.
Railway Budget on Feb 26
New Delhi, February 18
The Railway Budget will be presented in Parliament on February 26 instead of February 24 as Prime Minister Atal Behari Vajpayee will be back from his Malaysia tour only on February 25. Railway Minister Nitish Kumar will begin the Budget presentation at 12 noon on February 26.
Inclement weather causes worry among farmers
Wheat and mustard crops lodged at certain places
Chandigarh, February 18
Inclement weather for the past 48 hours has become a cause of worry for farmers as well as agriculture experts. No doubt, rain at this stage is good for various rabi crops, experts apprehend that the prevailing weather conditions often lead to hailstorms which can prove very harmful, especially to the wheat crop that is in the ear-formation stage.


Rain, wind kill one, damage 250 houses
In Health today
Accept court verdict on Ayodhya, says Kalam
February 18, 2003
Pawar, Mulayam dine with Sonia
February 17, 2003
Crisis in UP blows over
February 16, 2003
Blix: Iraq has no arms of mass destruction
February 15, 2003
BJP, RSS join hands
February 14, 2003
Advani comes to Dhumal's defence
February 13, 2003
VHP wants disputed land too
February 12, 2003
Close ultra camps: Vyas
February 11, 2003
New Counsellors take charge today
February 10, 2003
India expels Pak diplomat
February 9, 2003