THE TRIBUNE MAGAZINES
On alternate Mondays

On Sundays
On Saturdays
H.K. Dua to be Editor-in-Chief of Tribune group
Chandigarh, March 24
The Board of Trustees has appointed senior journalist H.K. Dua as Editor-in-Chief of The Tribune group of newspapers. Mr Dua is a former Editor of the Hindustan Times, Editor-in-Chief of The Indian Express and Editorial Adviser to The Times of India.


Best Actress Oscar for Kidman
Los Angeles, March 24
Movie musical "Chicago" won the Oscar for best film at the Academy Awards but it was a pair of stunning upset victories for "The Pianist" — director Roman Polanski and actor Adrien Brody — that gave the biggest surprises at a ceremony marked by talk of war.
Best Actor Oscar-winner Adrien Brody and Best Actress Oscar-winner Nicole Kidman pose after the 75th annual Academy Awards at the Kodak Theatre in Hollywood, California, on Sunday. — Reuters photo
In video: Chicago wins the best-motion-picture award in the 75th annual Academy Awards. (28k, 56k)
LADT to replace octroi; LTC restored
Punjab Budget pegs deficit at Rs 682.60 cr
Chandigarh, March 24
Punjab Finance Minister Lal Singh today unwrapped his Budget basket and cleverly juggled and juxtaposed concessions, incentives and tax proposals while revealing a deficit of Rs 682.60 crore.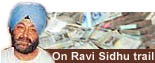 Allies zero in on Baghdad
March 24, 2003

Basra, Nasiriyah fall to allies
March 23, 2003

US, UK troops push on to Basra
March 22, 2003
US WAR ON IRAQ HAS BEGUN
March 21, 2003
Saddam put on 48-hour notice
March 19, 2003
War clouds thicken; USA, UK shed diplomacy
March 18, 2003
11 killed in attack on police post
March 17, 2003
Excavation leads to mosque floor
March 16, 2003
Gujarat tense; 10 hurt in Muharram violence
March 15, 2003
SC: poll reforms law unconstitutional
March 14, 2003
PM against war without UN nod
March 13, 2003