THE TRIBUNE MAGAZINES
On alternate Mondays

On Sundays
On Saturdays
IN PASSING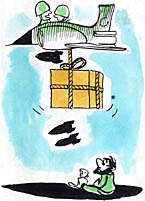 Don't bomb them, here we will release food packets!

by Sandeep Joshi
Don't touch body, father tells Modi

In video (28k, 56k)

Deputy Prime Minister L.K. Advani consoles the grief-stricken widow of former Gujarat Home Minister Haren Pandya in Ahmedabad on Thursday. Pandya was shot dead by unidentified gunmen on Wednesday. — PTI photo

20,000 VHP men court arrest
Vacate land near temples, Muslims told
New Delhi, March 27
Toughening its stand on the Ram temple issue, the VHP today included the disputed land in Ayodhya on its agenda even as an estimated 20,000 activists courted arrest on the first day of its week-long 'satyagraha' in the Capital to press its demand for the undisputed land for the construction of the temple there.
Release of militants put on hold
Jammu, March 27
The release of detained militants by the Mufti government has been put on hold by the Centre following a spurt in terrorist activities in Jammu and Kashmir. The meeting of the Screening Committee scheduled here today had to be postponed indefinitely.
Pak refuses to free Indian Sikhs
Islamabad, March 27
Pakistan today refused India's request to release a group of Indian Sikhs jailed for entering illegally from Iran, a Foreign Ministry official said.


TRIBUNE EXCLUSIVE
Fruit trees bear the brunt of harsh winter
Chohal (Hoshiarpur),
March 27
In a major blow to environment of the greenbelt of this area more than 60,000 matured fruit trees have completely got damaged due to extreme cold conditions that prevailed during the last phase of winter this year.

A farmer inspects damage caused to mango trees in his farm at Chohal village in Hoshiarpur district. — Photo Deepak
In Career Guide today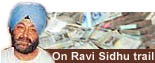 Bloodiest day of war
March 27, 2003
Advani sees Pak hand in massacre
March 26, 2003
Militants massacre 24 in Kashmir
March 25, 2003
Allies zero in on Baghdad
March 24, 2003

Basra, Nasiriyah fall to allies
March 23, 2003

US, UK troops push on to Basra
March 22, 2003
US WAR ON IRAQ HAS BEGUN
March 21, 2003
Saddam put on 48-hour notice
March 19, 2003
War clouds thicken; USA, UK shed diplomacy
March 18, 2003
11 killed in attack on police post
March 17, 2003