HOROSCOPE
In Education Tribune Today
THE TRIBUNE MAGAZINES
On alternate Mondays

On Sundays
On Saturdays
IN PASSING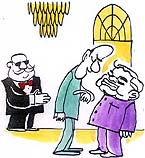 Sir, should we give him time? He wants to speak on something other than peace.

by Sandeep Joshi
Dhiren got arms licence from Sangrur
Police focusing on forensic evidence
Sangrur/Shimla, June 2
A police official from Shimla visited Sangrur today to verify the validity of the arms licence, issued to Dhiren Walia who allegedly murdered Padmesh Kaur, a cousin of Punjab Chief Minister Amarinder Singh and mother-in-law of Sangrur MLA Arvind Khanna, in Shimla on May 30.
One killed in Kasauli forest fire
Solan, June 2
A Nepalese daily wage earner, Khem Bahadur, died while Bhim and Ram Singh were seriously injured in a fire that broke out in the forest area around the Kasauli Air Force station last evening. The injured have been referred to the PGI in Chandigarh.
All set for net-based FIR
Jalandhar, June 2
The Punjab government is all set to introduce the hi-tech net-based First Information Report (FIR). With the implementation of the nationwide FIR filing mechanism the tracking down of criminals would become easy. The complainant would also be able to monitor the progress of the case on the website of the National Crime Record Bureau.


Walking miles for pail of water
Natural sources dry up, water schemes fail
Hamirpur, June 2
Hamirpur district is facing a water crisis due to drought conditions, burning of forests and non-arrival of timely and heavy rains last winter. The district has received no rains during the current summer season.


Water on ration cards

Himachal page
HC notice on water supply


Residents of Chhatrali village in Hamirpur district wait on the roadside for the water tanker on Sunday.
— Photo by writer
Bush agrees with PM's peace terms
June 2, 2003

Ties with India tops China agenda
June 1, 2003


Govt vacillating on Pak: Sonia
May 31, 2003


Vajpayee flays West's doublespeak
May 30, 2003

Atal rejects fresh decision on Kashmir
May 29, 2003

Jamali will hold talks with Vajpayee: Pervez
May 28, 2003

India sets rider for troops to Iraq
May 27, 2003

BJP moots job quota for upper caste poor
May 26, 2003

3 new Cabinet ministers sworn in
May 25, 2003

Ramachandran, Ajit Singh quit Cabinet
May 24, 2003