AGRICULTURE
EDUCATION
HEALTH
SCIENCE
CAREER GUIDE
SPORTS
HER WORLD
TRIBUNE CLASSIFIEDS
Verma meets Advani
Badal-Amarinder issue not discussed
New Delhi, July 5

Punjab Governor O P Verma, who met Deputy Prime Minister L K Advani here today, refused to be drawn into the "Badal-Amarinder controversy" saying that he was not in a position to say whether the raids being conducted by the VB on Akali Dal chief's properties were wrong or right.
Deputy Prime Minister L.K. Advani with Punjab Governor O. P. Verma in New Delhi on Saturday. — PTI photo

Punjab minister faces action


Chandigarh, July 5
The Punjab Forest Minister, Mr Harbans Lal, seems to be in serious trouble because of his "indictment" in a multi-crore tree felling scam in Ropar district.
Bush told Musharraf to end terrorism: Powell


New Delhi, July 5
The USA has once again sent strong signals to Pakistan that it wants Islamabad to stop terrorist activities against India.


USA defends seminar on Kashmir

World page: Pervez raises Kashmir with world leaders
In Her World today
HOROSCOPE
THE TRIBUNE MAGAZINES
On alternate Mondays

On Sundays
On Saturdays
People-oriented issues to dominate
Cong session
New Delhi, July 5
Even as it debates the critical issues of coalition, Ayodhya, communal and casteist challenges, the Congress has ensured that issues of governance, social empowerment and rural transformation are given adequate importance in the discussions at the party's brainstorming session at Shimla, beginning July 7.
TN Govt sacks 1 lakh striking employees
Chennai, July 5
Invoking the amended ESMA provisions, the Tamil Nadu Government today sacked over one lakh striking government employees even as the Madras High Court asked it to withdraw unconditionally all cases of suspensions and dismissals and release the arrested leaders.
3 Lashkar men killed in encounter
Srinagar, July 5
At least five persons, including three militants of the Lashkar-e-Toiba, were killed in separate incidents in Jammu and Kashmir since yesterday.
Monsoon brings relief to farmers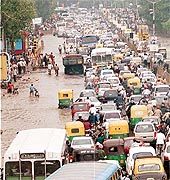 New Delhi, July 5
The monsoon showers, which lashed different parts of North India, brought a sigh of relief to farmers as the sowing of paddy would pick up in the coming days.
Even the delayed monsoon could not move the civic authorities to act as the early morning downpour brought woes to people of Delhi which witnessed heavy traffic jams. A scene at the busy ITO on Saturday shows the choked drainage system. — PTI photo


Monsoon turns active in North


Canal scam: probe reveals misuse of funds
Gurdaspur, July 5
The inquiry report of the three-member committee headed by Mr Bhagat Singh Sandhu, Adviser, Irrigation, to the Chief Minister, Punjab, that was probing the UBDC scam has been submitted to the government.
J&K minister hurt in attack
July 5, 2003
Advani blasts Amarinder
July 4, 2003
18 killed as Golconda Express derails
July 3, 2003
'Someone blocking defence procurement'
July 2, 2003
Pak envoy arrives
July 1, 2003
Two die in poll violence
June 30, 2003
12 soldiers killed in suicide attack
June 29, 2003
Vajpayee rejects US roadmap on Kashmir
June 28, 2003
PM calls for India-China 'alliance' in IT
June 27, 2003
Pervez to end infiltration: US official
June 26, 2003