In Sports Tribune today
IN FOCUS
In our series, State of Universities, Chief of Bureau P.P.S. Gill examines the functioning of Punjab Agricultural University, Ludhiana, on Edit page.

HOROSCOPE
THE TRIBUNE MAGAZINES
On alternate Mondays

On Sundays
On Saturdays
IN PASSING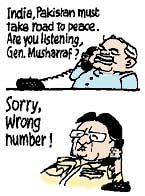 by Sandeep Joshi
Army alerted in Tripura
Agartala, August 15
The Army has been alerted in Tripura even as the toll in the attacks by insurgents on Independence Day eve rose to 30 with two more succumbing to their injuries. Non-tribesmen in a retaliatory action attacked a tribal group today injuring five, four of them seriously.
No compromise on merit: SC
Admission to private professional colleges
New Delhi, August 15
Emphasising on maintaining professional excellence, the Supreme Court has made it clear that merit cannot be substituted by any other consideration for admission to private medical, engineering and technical institutions whether run by minorities or non-minorities.
Opinion poll predicts 242-252 seats for NDA
New Delhi, August 15
The BJP-led NDA is on a slide, an India Today-ORG MARG opinion poll has said, predicting between 242 and 252 seats, short of a simple majority, for the ruling combine in the Lok Sabha, down from 304 in 1999.


Candlelight vigil preaches peace
Wagah (Amritsar), August 15
Singing 'Sanu nahin chahide ailan nit jang de, asi dowan passian di khair ni mangde' (we don't need declarations of war everyday, we pray for the well-being of both sides all the time) by folk singers, candles were lit at Hind-Pak Dosti Memorial at Wagah joint check-post on the eve of independence of India by a delegation of 12 MPs from Pakistan and India and journalists.
In video (28k, 56k)
Friendship function turns sour
PGPC co-chairman refuses to light candles at Zero Line
Bathinda, August 15
The very purpose of organising a candlelight show at the Zero Line at the Hussainiwala joint checkpost in Ferozepore district by the Indo-Pak Friendship Society this evening was defeated when Mr Sham Singh, co-chairman, Pakistan Gurdwara Parbandhak Committee refused to light the candles and instead, started using derogatory remarks against the Indian Government.

SC bans capitation fee in private professional colleges
August 15, 2003
2 killed, 50 hurt in Kashmir blasts
August 14, 2003
Musharraf proposes ceasefire along LoC
August 13, 2003
27 feared dead in ONGC copter crash
August 12, 2003
Vajpayee throws quota ball in Congress court
August 11, 2003
Govt can't be sacrificed for Ram temple: Advani
August 10, 2003
60 washed away in Kulu flash floods
August 9, 2003
PAC report issue rocks Lok Sabha
August 8, 2003
Govt staff can't go on strike, rules SC
August 7, 2003
5 die in copter crash near Srinagar
August 6, 2003