Union Minister of State for External Affairs Vinod Khanna argues with a police official as he leads his supporters towards the bridge in Naushehra Pattan on Wednesday.
— Photo S.S. Chopra
Mobile phone services for J&K launched
Srinagar, August 20


The much awaited mobile phone service was launched in Jammu and Kashmir by the Chief Minister, Mufti Mohammad Sayeed, when he made the inaugural call to the Prime Minister, Mr Atal Bihari Vajpayee, from here this evening.

Jammu and Kashmir Chief Minister Mufti Mohammad Sayeed talks to Prime Minister Atal Bihari Vajpayee during the inauguration of the cell phone service in Srinagar on Wednesday. — Reuters photo

In Science & Technology today
THE TRIBUNE MAGAZINES
On alternate Mondays

On Sundays
On Saturdays
IN PASSING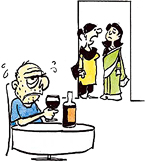 Is he celebrating the NDA's victory or drowning his hockey sorrows?

by Sandeep Joshi
Hope for Indian on death row in Pak
267 Indians, including POWs in jails
Amritsar, August 20
An Indian prisoner sentenced to death in Pakistan under "mistaken identity" may get a new lease of life after recording a fresh statement at the efforts of Mr Sheetal Das Kaler, Secretary, South Asian Human Rights Group, Canada chapter.
Missing cricketers' motive suspicious
Jalandhar, August 20
The sudden disappearance of five members of a Jalandhar-based women's cricket club in Hounslow in west London on Tuesday is being viewed as part of major human smuggling racket operational in Punjab under the garb of international cultural and sports exchange programmes.
Pilot presses hijack button by mistake
New Delhi, August 20
The memories of the Kathmandu-bound IC 814 Indian Airlines flight, which was hijacked by terrorists, were revived this morning when a Srinagar-bound airbus sent out a distress message of a hijack creating panic among 53 passengers, including Union Ministers Chaman Lal Gupta and Ashok Pradhan and also sending the security forces into a high-alert mode at the Indira Gandhi International airport here.
4 Hemkunt pilgrims die in mishap
Yamunanagar, August 20
Four persons died and seven were seriously injured in a collision between a truck and a car near Thana Chhappar last night.
Sanjay Singh returns to Congress
New Delhi, August 20
In a boost to the Congress in Uttar Pradesh, especially in Amethi, former Union Minister Sanjay Singh, a loyalist-turned-opponent of the Gandhi family, returned to the party today after a gap of 15 years.



Cow slaughter ban rings alarm bells in North-East
Shillong, August 20
"The humble cow stood between the tribals in the North-east and Hinduism", wrote the well-known anthropologist Verrier Elwin in his autobiography. Today the animal stands in the way of the Bharatiya Janata Party's planned growth in the region.

HOROSCOPE
No-trust motion defeated
August 20, 2003
Oppn charges govt with all-round failure
August 19, 2003
Battlelines drawn for no-trust vote
August 18, 2003
'Bought brides' of Punjab face societal wrath
August 17, 2003
PM invites Pak for walk on peace road
August 16, 2003
SC bans capitation fee in private professional colleges
August 15, 2003
2 killed, 50 hurt in Kashmir blasts
August 14, 2003
Musharraf proposes ceasefire along LoC
August 13, 2003
27 feared dead in ONGC copter crash
August 12, 2003
Vajpayee throws quota ball in Congress court
August 11, 2003