HOROSCOPE
Chandigarh is 50
CHANDIGARH, the nation's most modern and vibrant city, is celebrating its Golden Jubilee today. The Tribune, which has been associated with the growth of Chandigarh and has shared its joys and sorrows, is offering to its readers a Special Supplement — "Chandigarh is 50" — to celebrate the occasion.
THE TRIBUNE MAGAZINES
On alternate Mondays

On Sundays
On Saturdays
IN PASSING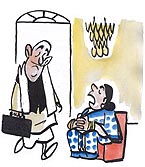 India ranks 83rd on the corruption list. Have you decided to live within your known sources of income?

by Sandeep Joshi
CBI raids Maya's houses
New Delhi, October 8
In a major swoop in connection with the Taj Corridor Heritage Project scam, the CBI today carried out simultaneous raids at the residences of former Uttar Pradesh Chief Minister Mayawati in Delhi, Lucknow, Bulandshahar, Khurja and NOIDA.
IAF becoming elite force: Air Chief
New Delhi, October 8
The Chief of Air Staff Air Chief Marshal S. Krishnaswamy while urging his men to make the Indian Air Force more professional said today that it was a force to reckon with in the region.
In video (28k, 56k)

The Suryakiran aerobatic team performs during the Air Force Day celebrations in New Delhi on Wednesday. — Reuters photo
Pak test-fires Hatf-IV missile
Islamabad, October 8
Pakistan today conducted its second missile test in less than a week by "successfully" test-firing the Hatf-IV medium-range nuclear-capable missile, which has a range of 700 km and could hit targets in India.
SC ruling brings reprieve to tenants
New Delhi, October 8
The Supreme Court today declined to issue a direction to the Centre for implementing the controversial Delhi Rent Control Act kept in limbo since 1995 despite the President's assent.


Fly ash continues to flow
Fisheries Dept collects water samples from wetlands
Ropar, October 8
Fly ash continued to flow into the Sutlej in the international wetland here for the second day from the breached dyke of the Guru Gobind Singh Super Thermal Plant.

Editorial: Sullying the Sutlej


Workers busy plugging the breach in the Guru Nanak Thermal Plant discharge canal on Wednesday.
— Tribune photo by Karam Singh
In Science & Technology today
Jogi chargesheeted
October 8, 2003

5 states go to polls on Nov 20, Dec 1
October 7, 2003

Israeli jets hit camp near Damascus
October 6, 2003

Government warns telecom operators
October 5, 2003

Mulayam's Cabinet now has 98 members
October 4, 2003

6 rights activists detained
October 3, 2003

Naidu injured in mine blast
October 2, 2003

Joshi's resignation rejected
October 1, 2003

Al-Qaida's call to topple Musharraf
September 30, 2003

India beat Pak, lift Asia Cup
September 29, 2003

2 cr Bangladeshis in India: Fernandes
September 28, 2003