THE TRIBUNE MAGAZINES
On alternate Mondays

On Sundays
On Saturdays
IN PASSING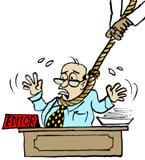 by Sandeep Joshi
Positive signals from Pak
Information Minister arriving on IA flight
New Delhi, November 8
Positive signals are emanating from Pakistan vis-a-vis a multilateral forum like the South Asian Association for Regional Cooperation (SAARC), which may be indicative of a bilateral diplomatic thaw between New Delhi and Islamabad.
Nation page: Al-Qaidisation of Pak worries US expert
Mumbai top cop quizzed


Mumbai, November 8
Mr Ranjit Sharma, Mumbai's Police Commissioner, is the latest police officer to be quizzed in the fake stamp paper racket allegedly masterminded by Abdul Karim Telgi. He was today summoned before the Special Investigation Team (SIT) probing the racket.
Challan against Badal ready, says Pandey
Jalandhar, November 8
The Punjab Vigilance Bureau has finalised the challan against the former Punjab Chief Minister, Mr Parkash Singh Badal, for having assets disproportionate to his known income sources. The challan would be submitted in the court by the bureau sometime next week.


Sore over govt apathy, residents, 'Bridge Baba' build road
Manko (Jalandhar), November 8
Perturbed over the alleged failure of the government to provide them with a motorable road, panchayats and residents of about 10 villages, NRIs and Sant Malkit Singh, also known as 'Bridge Baba' in the area, joined hands to resolve the matter. The result of their efforts was a stretch of 7-km of a well-built road and that too within a short period of about two months.
Mr Balwinder Singh Minhas, Secretary, Ministry of Industries, Government of India, (left with black turban) inaugurates a 7-km-long stretch of road constructed by Manko village-based Baba Malkit Singh with the help of some NRIs, residents of 10 villages, and their panchayats. The road has linked 10 villages of Jalandhar district.
— Photo by S.S. Chopra.
In Her World today
Death penalty for Sushil Sharma in 'tandoor' case
November 8, 2003


19 hacked, burnt in tea garden clash
November 7, 2003


Emergency in Lanka
November 6, 2003


Lankan Parliament suspended
November 5, 2003


Sushil Sharma convicted
November 4, 2003

3 killed, 40 hurt in Gujarat violence
November 3, 2003

We'll test Pak sincerity, says PM
November 2, 2003

India scalp Pak for hockey gold
November 1, 2003

Kashmir-specific proposals rejected
October 31, 2003
Pak accepts proposals, but harps on Kashmir
October 30, 2003

1 dead, 37 hurt in Srinagar CTO blast
October 29, 2003