HOROSCOPE
THE TRIBUNE MAGAZINES
On alternate Mondays

On Sundays
On Saturdays
IN PASSING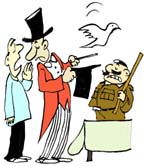 Please don't pull out a kabootar now, otherwise cops will catch you.

by Sandeep Joshi
Iraq blast leaves 14 Italians dead
Baghdad, November 12
At least 14 Italians were killed in a blast outside the headquarters of the Italian military police, based in the southern Iraqi town of Nassiriya today. A spokesman for the Carabinieri in Rome said 11 of the dead were from the military police and three from the Army.

A video image shows crowds watching smoke billowing into the sky after a car bomb ripped through an Italian military police base in the Iraqi town of Nassiriya. — Reuters photo
Region may face petro product shortage
Panipat, November 12
With the indefinite strike by the Haryana Petroleum Tankers Association entering the second day, an acute shortage of petroleum products is on the cards in the region.


---
Sports page: India falter again, fall short of target

Mathew Hayden lies on the ground after being run out by Indian keeper Rahul Dravid (not in picture) during their TVS Cup tri-series match in Bangalore on Wednesday. — AFP
---
Body of minister's daughter found
Imphal, November 12
The body of Lungnila Elizabeth, a Manipur minister's daughter kidnapped for ransom by militants, was today recovered from a pond near her school in Imphal West district.
They know it, but can't help producing 'poisonous' crops
Nawanshahr, November 12
The health of a large number of people and cattle is at stake as farmers of four villages sell their selenium-affected fodder and foodgrains to unsuspecting consumers.


Audit report indicts Himachal varsity VC
Shimla, November 12
A special audit conducted by the Comptroller and Auditor General on the directions of the Governor, Mr V.S. Kokje, has indicted the Vice-Chancellor of Himachal Pradesh University, Dr S.D. Sharma, directly linking him with the irregularities in the printing of question papers.


Himachal page: Executive council to decide VC's fate
In Science & Technology today
Russia for lifting N-sanctions
November 12, 2003

SC stays arrest of journalists of
The Hindu
November 11, 2003

Suicide bombers kill 11 in Riyadh
November 10, 2003

Press across nation rallies behind The Hindu
November 9, 2003

Death penalty for Sushil Sharma in 'tandoor' case
November 8, 2003


19 hacked, burnt in tea garden clash
November 7, 2003


Emergency in Lanka
November 6, 2003


Lankan Parliament suspended
November 5, 2003


Sushil Sharma convicted
November 4, 2003

3 killed, 40 hurt in Gujarat violence
November 3, 2003