PUNJAB
HARYANA
JAMMU & KASHMIR
HIMACHAL
REGIONAL BRIEFS
NATION
OPINIONS
MAILBAG
BUSINESS
SPORTS
WORLD
Thursday, April 22, 2004, Chandigarh, India
Updated at 3:00 am (IST)

Suicide bombers kill 68 in Iraq

Car bomb kills 10 in Riyadh
Al-Qaida hand seen
Basra (Iraq), April 21
Suicide bombers killed at least 68 persons, many of them children, in co-ordinated strikes on four police stations that inflicted bloody chaos on Iraq's southern city of Basra today, officials said.
CAST YOUR VOTE
Should there be a central corpus for the welfare of disabled people?

AGRICULTURE
EDUCATION
HEALTH
SCIENCE & TECHNOLOGY
CAREER GUIDE
SPORTS
HER WORLD
TRIBUNE CLASSIFIEDS
BRIDES WANTED
GROOMS WANTED
OTHERS
HOW TO PLACE ADVTS



Indo-Pak talks on nuclear CBMs on
May 25 & 26
New Delhi, April 21
Soon after being installed at the Centre by the third week of the next month the new government would have to tackle two major foreign policy-related issues: holding expert-level talks with Pakistan on nuclear Confidence Building Measures and the Prime Minister's crucial visit for BIMSTEC summit to be held in Thailand.
EC orders repoll at 283 polling stations
New Delhi, April 21
The Election Commission today ordered repoll at 283 polling stations in nine states, where polling in the first phase of the for the Lok Sabha elections was marred by large-scale disturbances.
Muslim support must for progress, says PM
New Delhi, April 21


In an open appeal to the minority community ahead of the remaining three crucial phases of the Lok Sabha elections, Prime Minister Atal Bihari Vajpayee today said without the support of Muslims the country could not progress.
THE TRIBUNE MAGAZINES
On alternate Mondays

On Sundays

On Saturdays

Best Bakery case: Gujarat opposes retrial
New Delhi, April 21
The Gujarat Government today told the Supreme Court that it had moved an application for modification of judgement in the Best Bakery case by opposing its transfer for re-trial in Maharashtra and for expunging certain "adverse" observations against the state government.


Editorial: Riots and wrongs
Curfew in Hardwar, 1 dies in police firing
Hardwar, April 21
Following violent clashes between the mela police and locals, curfew was clamped today in the Police Kotwali area here.
Grenade lobbed at campaign vehicle, 11 hurt
Srinagar, April 21
At least 11 persons were injured when militants lobbed a grenade at a campaign vehicle of an Independent candidate from the Anantnag Lok Sabha constituency in south Kashmir today, official sources said.
Mobilise resources or face decay, panel warns Punjab
Chandigarh, April 21
The Punjab Plan Resource Committee suggests an additional annual revenue mobilisation of Rs 2,555 crore and warns failure to do so will adversely affect the state's economy, ''sucking it into a whirlpool of decay''.
SAD promises to strive for federal set-up
Free water and power to kisans, education for girls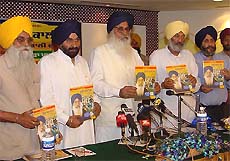 Ludhiana, April 21
The Shiromani Akali Dal has reaffirmed its commitment to a federal setup where the Union Government has least interference on issues concerning the states.

The SAD President, Mr Parkash Singh Badal, accompanied by senior leaders, releases the party manifesto in Ludhiana on Wednesday. — A Tribune photograph
55 pc cast vote, 17 killed
April 21, 2004
Punjab & Haryana HC in deep crisis
April 20, 2004
Kalam asks countrymen to vote 'positively'
April 19, 2004
Jethmalani: I will contest from Lucknow
April 18, 2004
EC: file case against Tandon
April 17, 2004
India set to clinch series
April 1

6

, 2004
1 dead, 25 hurt in Doda attack
April 1

5

, 2004
Stampede snowballs into poll issue
April 14, 2004
21 die in PM's constituency
April 13, 2004
EC rejects BJP's plea on campaigning deadline
April 12, 2004
Clashes erupt in Baghdad
April

11

, 2004