AGRICULTURE
EDUCATION
HEALTH & FITNESS
SCIENCE & TECHNOLOGY
CAREER GUIDE
SPORTS
HER WORLD
TRIBUNE CLASSIFIEDS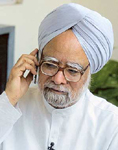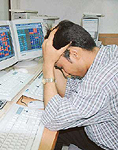 A broker reacts after the stock market meltdown in Mumbai on Monday. — PTI


Senior Congress party leader Manmohan Singh talks on a mobile phone while conducting an interview in New Delhi, on Monday. — Reuters


Kalam invites Sonia
Congress-led UPA government on Wednesday
New Delhi, May 17
In keeping with precedence and acknowledging that the Congress has emerged as the single largest party as well as being the largest political formation along with its allies in the 14th Lok Sabha, President A.P.J. Abdul Kalam has invited Sonia Gandhi for discussions on government formation either this evening or tomorrow.


PUNJAB: SAD suspends Chandumajra


HARYANA: CM skips meeting at Raj Bhavan


HIMACHAL: CM, Stokes want own men at Centre


NATIONAL CAPITAL REGION: 'Osama Bin Laden' man held for extortion


CHANDIGARH: Youths vandalise pub, attack proprietor


LUDHIANA: 3 mutilated bodies found in city


OPINIONS: Unwarranted panic


NATION: 14th Lok Sabha constituted

BRIDES WANTED
GROOMS WANTED
OTHERS
HOW TO PLACE ADVTS
THE TRIBUNE MAGAZINES
On Sundays

On Saturdays

Upset Sonia offers to step down on foreign origin issue
New Delhi, May 17
Congress members and their alliance partners went through some tense moments tonight when a deeply disturbed Sonia Gandhi expressed her willingness to step down if her foreign origin was becoming a source of embarrassment for them.


Nation page: PIL against Sonia becoming PM

NDA to boycott Sonia's swearing in
New Delhi, May 17
The BJP-led NDA today decided to ignite people's emotions on Congress President Sonia Gandhi's foreign origin issue and announced the boycott of the swearing-in ceremony of the new coalition.


In video (28k, 56k)

Left not to join Cong-led coalition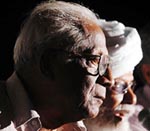 New Delhi, May 17
The Left parties today jointly decided not to join the Congress-led coalition government at the Centre, but would review its "nature of association with the government" once the common minimum programme is finalised.


In video (28k, 56k)
CPI General Secretary A. B. Bardhan and his CPM counterpart Harkishen Singh Surjeet address mediapersons after the Left parties decided to support a Congress-led government from outside on Monday. — PTI photo


CPI to join govt only with all Left parties
Posts of Security Adviser, Principal Secy may be segregated
New Delhi, May 17
The Congress-led government at the Centre, which is faced with urgent decisions on the diplomatic and strategic fronts, may segregate the two crucial posts of NSA and Principal Secretary to the Prime Minister.


Notice to Sajjan against acquittal
New Delhi, May 17
The Delhi High Court today issued notices to newly elected Congress MP Sajjan Kumar and over a dozen others on two revision petitions challenging their acquittal in two anti-Sikh riot cases.
In Education Tribune today
Allies want Sonia to be PM
May

17

, 2004
Decks cleared for Sonia-led govt
May

16

, 2004
Sonia emerging front runner
May

15

, 2004
NDA VOTED OUT
May

14

, 2004
People's verdict today
May

13

, 2004
Cong sweeps Andhra
May

12

, 2004
58 per cent cast vote
May

11

, 2004
Coalition with large parties better, says PM
May

10

, 2004
PM for stability, Sonia for change
May

9

, 2004
Gujarat action in bakery case misconceived, says SC
May

8

, 2004
Firms hiring ex-armymen for Iraq to be prosecuted
May

7

, 2004