PUNJAB
HARYANA
JAMMU & KASHMIR
HIMACHAL
REGIONAL BRIEFS
NATION
OPINIONS
MAILBAG
BUSINESS
SPORTS
WORLD

Thursday, June 24, 2004, Chandigarh, India
Updated at 3:00 am (IST)

BJP skips Hindutva, targets Sonia
Mumbai, June 23
Taking strong exception to the misinterpretation of the people's mandate, the BJP today accused the Congress of trying to blemish the system of governance by creating two power centres, criminalising governance at the Centre and soft-pedalling on the issues of terrorism and infiltration.


Vajpayee, Advani disappoint hardliners

BJP failed to focus on its 'parivar': Advani

Editorial: Back to basics
CAST YOUR VOTE
Should the BJP revert to Hindutva?

SCIENCE & TECHNOLOGY
EDUCATION
HEALTH & FITNESS
FORUM
JOBS & CAREERS
SPORTS
WOMEN
TRIBUNE CLASSIFIEDS
BRIDES WANTED
GROOMS WANTED
OTHERS
HOW TO PLACE ADVTS

UPA office near Sonia's residence
New Delhi, June 23
The newly-constituted United Progressive Alliance will soon have an address. After inspection of various properties, it has finally been decided to house the UPA office at 2, Motilal Nehru Place.


PM to address nation today
19 injured in grenade blast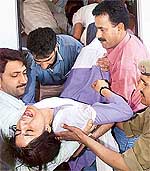 Srinagar, June 23
The Army has foiled an infiltration bid, killing three armed infiltrators in Kupwara district of north Kashmir. Two militants were killed in another encounter in the Lolab area of Kupwara district yesterday.

A Kashmiri woman, wounded in a grenade blast in Srinagar, is taken out from an ambulance on Wednesday.
— Reuters photo

In Forum Today
THE TRIBUNE MAGAZINES
On Sundays

On Saturdays

IN PASSING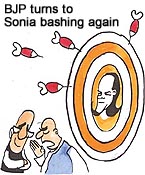 After the day-long brainstorming session, these games will certainly boost our morale.

by Sandeep Joshi
(Click to enlarge)
Zahira Sheikh's sister-in-law seeks maintenance
Vadodara, June 23
Yasmin Bano, sister-in-law of key witness in the Best Bakery case Zahira Sheikh, has demanded maintenance and her share in the property.
Jayalalithaa reinstates sacked employees
Chennai, June 23

The electoral rout of the ruling party in Tamil Nadu in the last general elections continued to have its reverberations as Chief Minister and AIADMK supremo, Ms J. Jayalalithaa, today reshuffled her Cabinet for the umpteenth time and in an about turn reinstated the dismissed casual state government employees.
Two more Telgi accomplices held
New Delhi, June 23
Even as the CBI arrested two more persons allegedly involved in the fake stamp paper racket in the city, a Delhi court directed the agency to take Abdul Karim Telgi, the kingpin of the racket, back to the Yerwada jail in Pune.


'Deserter' jawan writes from Pak jail


Kot Bhai (Gidderbaha), June 23
Finally, today the family members of Lance Naik Jaksir Singh who had been declared deserter by his regiment during the Kargil War five years ago heaved a sigh of relief.

The mother and son of Lance Naik Jaskir Singh with his photograph.
— A Tribune file photo

Return to basics, BJP chief tells party cadre
June 23, 2004
Natwar strikes a chord with Kasuri
June 22, 2004
Indo-Pak moratorium on N-tests
June 21, 2004
Indo-Pak nuclear CBM talks on right track
June 20, 2004
Modi may go
June 19, 2004
Gujarat to be discussed in Mumbai: Vajpayee
June 18, 2004
24 dead, 60 hurt in rail mishap
June 17, 2004
Petrol, diesel, LPG to cost more
June 16, 2004
BJP rallies behind Modi, ignores Vajpayee
June 15, 2004
India to join G-20 fight for farm subsidies
June 14, 2004
Ultras target tourists
June 13, 2004