PUNJAB
HARYANA
JAMMU & KASHMIR
HIMACHAL
REGIONAL BRIEFS
NATION
OPINIONS
MAILBAG
BUSINESS
SPORTS
WORLD

Tuesday, September 7, 2004, Chandigarh, India
Updated at 3:00 am (IST)

PM rules out China-type talks on Kashmir
Says Pak must stop cross-border terrorism
New Delhi, September 6
Prime Minister Manmohan Singh today shot down Pakistan Foreign Minister Khurshid Mehmood Kasuri's proposal for having a China-type institutionalised mechanism of Special Representatives-level talks for resolution of the Kashmir dispute. The government's decision was conveyed by the Prime Minister to Mr Kasuri who called on him at 7, Race Course Road this evening.

Natwar to visit Islamabad
New Delhi, September 6
External Affairs Minister K Natwar Singh will visit Pakistan again. At a press conference with his counterpart Khurshid Mahmud Kasuri, he said the Pakistani minister had extended him an invitation to visit Islamabad.

CAST YOUR VOTE
Should India plan a 'no negotiations' hostage policy?

EDUCATION
JOBS & CAREERS
HEALTH & FITNESS
FORUM
SCIENCE & TECHNOLOGY
SPORTS
WOMEN
TRIBUNE CLASSIFIEDS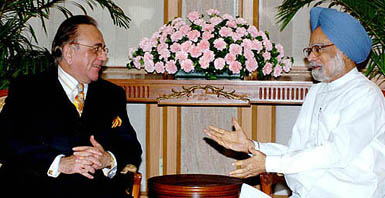 Prime Minister Manmohan Singh with Pakistan Foreign Minister Khurshid Mehmood Kasuri in New Delhi on Monday. — PTI photo

India offers diesel to Pakistan via Jalandhar
New Delhi, September 6
India today offered to supply diesel to Pakistan by laying a pipeline from Jalandhar to Lahore and in assisting Islamabad in setting up CNG infrastructure. Pakistan is currently importing diesel from Kuwait.

Amritsar-Lahore bus service to start soon
New Delhi, September 6
After two-day talks between External Affairs Minister K Natwar Singh and his Pakistani counterpart Khurshid Mehmood Kasuri, the leaders announced that a `Special Day' bus-service will be operated between Amritsar and Lahore for visits to religious places there like Nankana Sahib on special occasions.

Uma Bharti released; case withdrawn


Hubli, September 6
In a major relief for her, former Madhya Pradesh Chief Minister Uma Bharti was today discharged by a court here in a 10-year old criminal case and ordered to be set free.


In video (28k, 56k)

In Education Tribune Today
In Jobs & Careers Today
BRIDES WANTED
GROOMS WANTED
OTHERS
HOW TO PLACE ADVTS
THE TRIBUNE MAGAZINES
On Sundays

On Saturdays

IN PASSING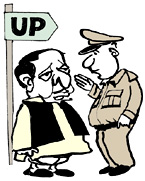 The law and order situation is under control. Only 12 cases of murder and 10 cases of kidnapping have been reported in one hour.

by Sandeep Joshi
(Click to enlarge)
Nation page:

Advani blames Sonia for Uma's detention

Dragging Tricolour into partisan politics objectionable: Cong


Notice to Taslimuddin; SC stays proceedings in Bihar court
New Delhi, September 6
In a blow to the UPA government on "tainted" ministers issue, the Supreme Court today stayed proceedings in the Araria court on the Bihar Government's plea for withdrawing a criminal case against Union minister Mohd Taslimuddin, saying the Magistrate concerned had shown "mortal hurry" in staying the arrest warrant against him.
SC notices on promises to Kargil martyrs' families
New Delhi, September 6
The Supreme Court today issued notices to the Defence and Petroleum Ministries on a petition alleging that many families of Kargil war martyrs had not yet been provided with the promised welfare schemes by the government.
6.1 pc decline in Sikh population
New Delhi, September 6
The first-ever 'Census report on religion' released by the Census Commission of India today showed a "high growth" of Muslims at 36 per cent during the decade 1991-2001 in sharp contrast to the 20.3 per cent growth rate of Hindu population during the same period.
(Detailed report on Nation page)



Breakthrough in TB treatment
New Delhi, September 6
For the past four decades, it can prove a major breakthrough in medical science across the world. Indian scientists claim to have discovered a new anti-tubercular molecule for early treatment of tuberculosis, just within two months against six to eight months time taken by the present treatment.
ILLEGAL CREMATIONS
Natwar, Kasuri hold positive talks
September 6, 2004
Ordinance soon to repeal POTA
September 5, 2004
150 die as commandos storm school
September 4, 2004
Fresh probe into Godhra fire ordered
September 3, 2004
PM's package for Amritsar
September 2, 2004
Politics overshadows celebrations
September 1, 2004
Sifti da ghar overflows
August 31, 2004
Pakistan says no to extradition treaty
August 30, 2004
Arunachal CM joins Cong with Cabinet
August 29, 2004
Bomb attacks, arson in Maharashtra; 18 hurt
August 28, 2004
Budget passed without debate
August 27, 2004