PUNJAB
HARYANA
JAMMU & KASHMIR
HIMACHAL
REGIONAL BRIEFS
NATION
OPINIONS
MAILBAG
BUSINESS
SPORTS
WORLD
Tuesday, September 21, 2004, Chandigarh, India
Updated at 3:00 am (IST)

Manmohan Singh, Blair vow to fight terror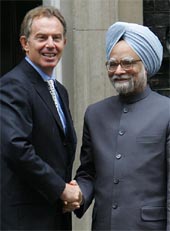 London, September 20
British Prime Minister Tony Blair today condemned terrorism in Jammu and Kashmir as India and the United Kingdom resolved to fight the menace globally.


In video (28k, 56k)

British Prime Minister Tony Blair welcomes his Indian counterpart Manmohan Singh at 10 Downing Street in London on Monday.
— Reuters photo


Sonia source of strength, says PM

FDI hike policy to remain, says PM

Business page: India, UK decide to set up a joint economic panel

CAST YOUR VOTE
Should long vacations enjoyed by judiciary be cut down?

EDUCATION
JOBS & CAREERS
HEALTH & FITNESS
FORUM
SCIENCE & TECHNOLOGY
SPORTS
WOMEN
TRIBUNE CLASSIFIEDS
BRIDES WANTED
GROOMS WANTED
OTHERS
HOW TO PLACE ADVTS
Big leap in space programme
Sriharikota, September 20
It was a great leap forward in India's space programme as ISRO's geosynchronous satellite launch vehicle in its first operational flight today launched Edusat, India's first exclusive satellite for educational services, from the Satish Dhawan Space Centre here, 80 km from Chennai.
Editorial: Tele-education

Punjab planning entry tax to "save industry"
Chandigarh, September 20
In a tight spot owing to the attractive incentives given by the Centre to promote industry in Himachal Pradesh, J and K and Uttaranchal, Punjab is preparing to hit back hard on this issue.

In Jobs & Careers today
THE TRIBUNE MAGAZINES
On Sundays

On Saturdays

IN PASSING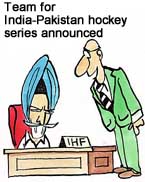 Sir, the only way we can promote Indian hockey is to take Tendulkar in the team.

by Sandeep Joshi
(Click to enlarge)

SYL: SC asks Rajasthan, J&K to file replies
New Delhi, September 20
The Supreme Court today adjourned hearing for six weeks on the Presidential reference against Punjab's Act, terminating the water accords with the neighbouring states as Rajasthan and Jammu and Kashmir failed to file replies even as Haryana, Himachal Pradesh and Delhi termed the action of the Punjab Government as violative of the Constitution and the principle of federalism.
CSIO develops software to store secrets
Chandigarh, September 20


In a major achievement in the field of nanotechnology, Chandigarh-based CSIO has developed a DNA-based encryption which will prove invaluable in the field of defence, spying and related matters.
Hockey team for Pak series announced
Chandigarh, September 20
The Indian Hockey Federation today announced a 18-member team for the tour of Pakistan where the arch-rivals rivals will clash in a Test series for the first time in five years. (Details on Sports page)


Cheated by travel agent, sold for Rs 6,000 in Malaysia

Jalalabad East (Moga), September 20
He landed up in Malaysia looking for greener pastures, but ended up being sold to a scrap dealer in mere 500 ringgits (Rs 6,000).

Jasbir Singh with his family members at Jalalabad East.

In Education Tribune today
Reforms to continue, says PM
September 20, 2004
Weed out graft from judiciary
September 19, 2004
Cabinet nod for repeal of POTA
September 18, 2004
Government to probe Census confusion, says Sonia
September 17, 2004
Haryana says Punjab Act unconstitutional
September 16, 2004
We are not bound to build SYL: Punjab
September 15, 2004
Punjab power crisis deepens
September 14, 2004
India, Nepal vow to fight terror
September 13, 2004
Pak softening on Sir Creek
September 12, 2004