PUNJAB

HARYANA

JAMMU & KASHMIR

HIMACHAL

REGIONAL BRIEFS

NATION

OPINIONS

MAILBAG

BUSINESS

SPORTS

WORLD
Friday, May 6, 2005, Chandigarh, India
Updated at 3:00 am (IST)

BREAKING NEWS (UPDATD AT 2 PM (IST)


Labour wins historic third term in Britain
---
PM puts Opposition on the mat
TDP ends boycott
New Delhi, May 5


Prime Minister Manmohan Singh took the wind out of the sails of the Opposition stressing that there was a world of difference in what they say and what they do. Dr Singh also stoutly objected to the Opposition charges that the government tried to prevent Pakistan President Pervez Musharraf from calling on former Prime Minister Atal Bihari Vajpayee.


In video (28k, 56k)

CAST YOUR VOTE
Is Canada right in not appealing against the acquittal of accused in the Kanishka case?


FORUM

EDUCATION

JOBS & CAREERS

HEALTH & FITNESS

SCIENCE & TECHNOLOGY

SPORTS

SOCIETY

TRIBUNE CLASSIFIEDS

BRIDES WANTED

GROOMS WANTED

OTHERS

HOW TO PLACE ADVTS
India puts 2 satellites into orbit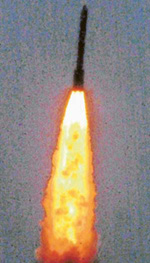 Smooth launch at Sriharikota
Sriharikota, May 5
India surged ahead in space science as scientists of the Indian Space Research Organisation (ISRO) here today successfully launched the PSLV-C6 and placed two remote-sensing satellites, CARTOSAT-1 and HAMSAT in the polar sun synchronous orbit exactly at 10.32 am.


A rocket carrying the Cartosat-1 satellite takes off from the space centre of the Indian Space Research Organisation at Sriharikota, about 10 km from Chennai, on Thursday. — Reuters photo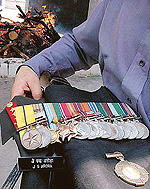 Lt-Gen Aurora cremated
New Delhi, May 5
Lt-Gen Jagjit Singh Aurora, the hero of the 1971 war for liberation of East Pakistan and who oversaw the surrender of over 90,000 Pakistani troops was today cremated here with full military honours with people from all walks of life coming over to pay their last respects to the General.


In video (28k, 56k)
The medals won by the much-decorated 1971 war hero, Lt-Gen J.S. Aurora, being taken for preservation as the General's mortal remains are consigned to the flames in Delhi on Thursday. — Tribune photo by Mukesh Aggarwal

| | |
| --- | --- |
| | PUNJAB: Punjab sets up farm panel |
| | HARYANA: Fate of 718 students hangs in balance |
| | HIMACHAL: Man sees conspiracy behind son's death |
| | |
| | |
| | CHANDIGARH: Pawan Sharma remanded in judicial custody |
| | |
| | OPINIONS: No mercy for the rapist |
| | BUSINESS: Hold open inquiry, Shourie dares govt |
| | |
| | WORLD: Britain goes to the polls |
| | |

QUOTE OF THE DAY
I think the country should know that there is a world of a difference between what the Oppositions says and what it does.

— Manmohan Singh

THE TRIBUNE MAGAZINES
On Sundays

On Saturdays

2 blasts outside UK mission in US
New York, May 5
Two small grenades exploded in a concrete flowerpot outside a multi-storeyed building housing the British Consulate in midtown Manhattan early today, shattering glass panel on the front door but causing no injuries, hours after the UK went to the polls.
Marriage party attacked, 2 girls killed
Jammu, May 5
Two girls were killed and 18 injured as terrorists attacked a marriage party near Pouni in the Reasi area of the Udhampur district last night. Reports reaching here said terrorists tossed a grenade at the marriage party late at night, killing the two girls on the spot.
Parliament cannot dictate terms to media: Speaker
New Delhi, May 5
Lok Sabha Speaker Somnath Chatterjee said today that Parliament could not dictate terms to media. "It is entirely for the media to decide which news it will publish or broadcast.
Talks on Amritsar-Lahore bus service on May 10, 11
New Delhi, May 5
The technical-level talks for the Amritsar-Lahore bus service and bus service to religious places such as Nankana Sahib will be held on May 10 and 11 in Lahore, the Ministry of External Affairs announced today.


In video: Srinagar-Muzaffarabad bus raises hope of cross-border trade. (28k, 56k)


J&K page: 37 board bus to Muzaffarabad


Help trace BSF soldier in Pak jail, SC asks MEA
New Delhi, May 5
Taking a passionate view of the plea by the wife of a soldier from Punjab for safe return of her husband reportedly lodged in a Pakistani jail since the 1971 war, the Supreme Court has directed the Ministry of External Affairs (MEA) to "intervene" in the matter to supplant the efforts of the Border Security Force (BSF) in tracing its missing constable Surjit Singh.
George cleared VIP planes for Justice Phukan, says Pranab
May 5, 2005

NDA to review boycott today
May 4, 2005
No tax on savings cash withdrawals
May 3, 2005
Advani to lead BJP in poll: Vajpayee
May 2, 2005
Nepal lifts emergency
May 1, 2005
India, Japan to usher in new Asian era
April 30, 2005
NDA leaders meet Kalam, seek Lalu's ouster
April 29, 2005
Military aid in doldrums as Nepal arrests Deuba
April 28, 2005
21 states agree on uniform VAT rates
April 27, 2005
Laloo charge-sheeted
April 26, 2005
Manmohan calls for restructuring of UN
April 25, 2005