PUNJAB

HARYANA

JAMMU & KASHMIR

HIMACHAL

REGIONAL BRIEFS

NATION

OPINIONS

MAILBAG

BUSINESS

SPORTS

WORLD


CHANDIGARH

LUDHIANA

JALANDHAR
New

DELHI

JALANDHAR PLUS

AMRITSAR PLUS

LIFESTYLE
New
Monday, April 17, 2006, Chandigarh, India
Updated at 3:00 am (IST)

No decision to stop work on dam: PMO
Gujarat MPs meet Manmohan Singh
New Delhi, April 16
Coming together against any move by the Centre to suspend the Narmada Control Authority decision to raise the height of the Sardar Sarovar dam, BJP and Congress MPs from Gujarat today met Prime Minister Manmohan Singh saying the project was the "lifeline" of the state.



Nation page: Modi begins fast; Medha Patkar's effigy burnt


An activist from the Narmada Bachao Andolan (NBA) shouts slogans from a bus as the protesters are transported after being arrested outside Prime Minister Manmohan Singh's residence in
New Delhi on Sunday.
— AFP photo

CAST YOUR VOTE
Is the increase in the number of liquor shops warranted?


FORUM

EDUCATION

JOBS & CAREERS

HEALTH & FITNESS

SCIENCE & TECHNOLOGY

SPORTS

SOCIETY

TRIBUNE CLASSIFIEDS

BRIDES WANTED

GROOMS WANTED

OTHERS

HOW TO PLACE ADVTS

E - Revolution 2005:
A Two-day IT conclave

Assembly Elections - 2005

Turbans

Chandigarh is 50

EARLIER FEATURES
HOROSCOPE
Courts can interfere in departmental inquiries: SC
Chandigarh, April 16
In a major decision, the Supreme Court has set aside a judgement of the Punjab and Haryana High Court by which it had refused to interfere in the findings of an inquiry officer and various appellate authorities.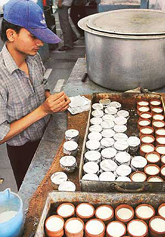 A Tribune Investigation
Shoddy catering derails Shatabdi
80 cases of upset tummy
Chandigarh, April 16
The much-acclaimed Shatabdi Express, introduced by the Indian Railways with an objective of providing luxury yet affordable rail travel in the region, no longer inspires the confidence it had generated about a decade ago.
Curd being packed for Shatabdi at Ambala Cantt railway station.
— Tribune photo by Neeraj Chopra

Lightning strikes malkhana
Amritsar, April 16
Wireless system of the Amritsar police was partially paralysed today when lightning struck malkhana of the Court Complex, near Deputy Commissioner and SSP office, here.

Naxals kill 10 cops in Chhattisgarh
Jagdalpur, April 16
Ten security personnel were killed and two seriously injured in a Naxalite attack on a police camp in Dantewada district's Murkinar village, the police said today.



India: The Tasks Ahead
SPECIAL SUPPLEMENT


125TH ANNIVERSARY CELEBRATIONS,
INAUGURAL SESSION


FORUM
Forum provides our readers with an opportunity to express their views on some of the vital issues facing the country. The new question being posed is:
Should admissions to specialised courses be on the basis of caste or merit?
Readers are invited to mail their letters to:
forum@tribunemail.com

— H.K. Dua
Editor-in-Chief
Quota: IIT students mull class boycott
Chennai, April 16
Students of the Indian Institute of Technology, Madras, are planning to boycott classes to mark their protest against the proposal to increase reservation in IITs and IIMs.
NCERT to adopt heritage schools
New Delhi, April 16
These are schools that were established during the British regime, when the country was striving for Independence. And years after the country won its freedom, some of these schools, that stood for certain values and ideologies are struggling to exist.
40,000 Iranian suicide bombers ready, if nuke sites hit
London, April 16
Iran has formed battalions of suicide bombers to strike targets in the UK and the USA if its nuclear facilities are attacked, says a media report. (Details on World page)



First Sikh officer in Pak army
Islamabad, April 16
A man hailing from the birth place of Guru Nank yesterday became the first Sikh in Pakistan to be commissioned into the army. Wearing a blue turban and sporting a traditional beard, Hercharan Singh of Nanakana Sahib, marched to the military tunes at the Pakistan Military Academy in Kakul and was formally commissioned into the army at a ceremony presided over by Prime Minister Shaukat Aziz.

Narmada talks hit roadblock
April 16, 2006

5 dead, 33 hurt in Srinagar
April 15, 2006

CBI raids houses of top IAS, IFS officers
April 14, 2006

Iran enriches uranium
April 13, 2006

Meerut seethes with anger
April 12, 2006

50 charred to death in Meerut
April 11, 2006

SBI strike called off
April 10, 2006

EC questions Arjun on quota
April 9, 2006

70 die as bus falls into Chenab
April 8, 2006

3 ex-Navy officers held
April 7, 2006

PM puts Haryana on road to progress
April 6, 2006