ADVERTISEMENT
ADVERTISEMENT

CHANDIGARH

LUDHIANA

JALANDHAR
New

DELHI

HIMACHAL PLUS
New

AMRITSAR PLUS

LIFESTYLE
New

BRIDES WANTED

GROOMS WANTED

OTHERS

HOW TO PLACE ADVTS
FORUM
The new question being posed is:
What should be done to stop tainted politicians from fighting elections?
Readers are invited to send their letters, not more than 150 words, to:
The Editor-in-Chief, The Tribune, Sector 29-C, Chandigarh, with 'Forum' superscribed on the envelope.
The answers can also be
e-mailed to:
forum@tribunemail.com

H.K. Dua
Editor-in-Chief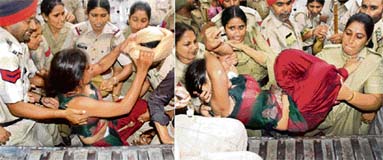 A girl student struggles to free herself from the clutches of policemen and (right) a student is thrown into a vehicle during a protest in Ludhiana on Thursday. — Photos by writer
On-bail DSP beats up IRS officer
Amritsar, September 21
Deputy Superintendent of Police (Detective) Rajinder Pal hurled abusive language and thrashed senior Indian Revenue Officer of the 1988 batch Ravi Sarangal, Additional Commissioner, Income Tax, on Lawrence Road here late last evening.
Uphill task for Deshmukh at CMs' conclave
New Delhi, September 21
Maharashtra Chief Minister Vilasrao Deshmukh will have a lot of explaining to do at the seventh Congress CMs' conclave being held in Nainital this week-end given his state's poor track record on the agriculture and internal security fronts, the two issues on the agenda of the upcoming meeting.
Govt puts sealing on hold till Sept 25
New Delhi, September 21
Bowing to traders pressure, the government today decided to put on hold the sealing of illegal commercial establishments in the national Capital and approach the Supreme Court with a fresh affidavit highlighting the "humanitarian aspect" and the "prevailing situation" ahead of the next hearing on September 25.



Editorial: Capital violence


Delhi page: The day after, an air of uneasy calm
Pak called 'client state for sale to highest bidder'
New Delhi, September 21
True to the American sense of timing, as Pakistan President Pervez Musharraf prepares to meet US President George W. Bush tomorrow, a leading American daily has described Pakistan as a "client state for sale to the highest bidder".

India: The Tasks Ahead

SPECIAL SUPPLEMENT

125TH ANNIVERSARY CELEBRATIONS,
INAUGURAL SESSION

E - Revolution 2005:
A Two-day IT conclave

Assembly Elections - 2005

Turbans

Chandigarh is 50

EARLIER FEATURES
In Jalandhar Plus today
In Science & Technology today

Close shave for Jet Airways Boeing
Rajkot, September 21
A Jet Airways Boeing 737, with 89 passengers on board, today had a miraculous escape after it was involved in a near-collision with a formation of the Indian Air Force's Sukhoi-30 fighter jets over the airport here.
Vijay Inder Singla is PYC chief
New Delhi, September 21
Ending months of uncertainty, the Congress today appointed Mr Vijay Inder Singla as president of the Punjab Youth Congress. The party also announced office-bearers of the PYC.

Vijay Inder Singla





A Tribune Investigation — Govt as landgrabber-III
Landless, farmers have penury to hold on to
Mohali, September 21
Amrik Singh had a half-acre plot in Sohana village in Mohali district. He used to grow vegetables and sell the same in nearby markets, earning just enough to take care of his family.

Jasbir Kaur and two of her children outside their house at Sohana village of Mohali. — Photo by writer

Punjab page: Acquisition of land: PM's intervention sought
Business page: RBI rules out concessional loans for SEZs
Guidelines framed for infrastructure in SEZs
HOROSCOPE
3 shot, 100 hurt in Delhi
September 21, 2006
India, Pak may not share hardcore intelligence
September 20, 2006
Pak, India to jointly fight terror: PM
September 19, 2006
NAM endorses India's stand on terror
September 18, 2006
India, Pakistan to resume talks
September 17, 2006
42 SAD, BJP MLAs suspended
September 16, 2006
Munda skips test, quits
September 15, 2006
Arjun Munda faces acid test today
September 14, 2006
Narrow escape for Punjab CM
September 13, 2006
SC refuses to restrain Speaker
September 12, 2006