ADVERTISEMENT
ADVERTISEMENT

CHANDIGARH

LUDHIANA

JALANDHAR
New

DELHI

HIMACHAL PLUS
New

AMRITSAR PLUS

LIFESTYLE
New

BRIDES WANTED

GROOMS WANTED

OTHERS

HOW TO PLACE ADVTS

E - Revolution 2005:
A Two-day IT conclave

Assembly Elections - 2005

Turbans

Chandigarh is 50

EARLIER FEATURES

Yuvraj injured, to miss today's tie
Mohali, October 28
India suffered a big blow ahead of the crucial Champions Trophy match against Australia tomorrow when Yuvraj Singh injured his left knee today while warming up with the team at the PCA Stadium at Mohali.



Chandigarh page: Injured Yuvraj manhandles Tribune lensman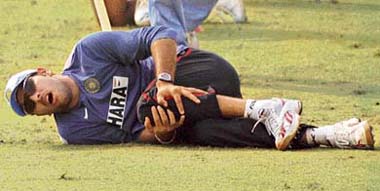 Yuvraj Singh grimaces in pain after he was injured during a training session for the ICC Champions Trophy at the PCA Stadium in Mohali on Saturday. —Reuters photo
Discrimination against Punjab in power allocation
Chandigarh, October 28
Instead of granting financial relief or a package to Punjab, the Union Government has given it shock treatment which officials of the PSEB describe as discrimination in the allocation of power from the Central pool for the winter season.
Cryogenic rocket test successful
Bangalore, October 28
India today successfully carried out the first test of a cryogenic rocket engine at Mahendragiri in Tamil Nadu, putting the country in a select club of nations possessing such a capability.

India: The Tasks Ahead

SPECIAL SUPPLEMENT

125TH ANNIVERSARY CELEBRATIONS,
INAUGURAL SESSION



HOROSCOPE
In Society today
Laws under 9th Schedule: SC hearing on Monday
New Delhi, October 28
Even as demands from various political quarters are mounting on the UPA government to put certain controversial laws in the Ninth Schedule to prevent the judiciary from adjudicating upon them, the Supreme Court will commence hearing on Monday on the competence of Parliament taking away several legislations, including the Tamil Nadu Reservation Act, away from the purview of the judiciary. (Details on Nation page)

Thind in court custody till November 11
Hearing on bail application on October 31
Patiala, October 28
Mr Bhupinder Singh Thind, ADGP (Law and Order), Himachal Pradesh Police, was remanded in judicial custody till November 11 by Ms Harinder Sidhu, Special Magistrate, CBI, when he was produced in her court by a team of the CBI led by SP Mahesh Aggarwal here today.
(Details on Punjab page)



Chandigarh page: Production warrants for Thind in cheque-bounce case

4 dead, 42 hurt in massive pile-up
Ludhiana, October 28
Four persons were killed and 42 injured, six of them seriously, in a huge pile up of five vehicles at Ludhiana-Jagraon road near Baddowal early morning today.
(Details on Punjab page)


Advertise products on kites in spite of total ban
Chandigarh, October 28
Tied down by the "Cigarettes and other Tobacco Products Act 2003" (COTP) which prohibits the promotion of tobacco in all forms, firms have devised a new way to advertise their products.
Kites inscribed with advertisements of chewing tobacco firms like Hans Chhap Khaini and Rashmi Zarda. — Tribune photo byManoj Mahajan.
Quote
Batting is a major concern, though the bowlers have been putting up a good show. — Rahul Dravid

Centre defers decision on wheat MSP
October 28, 2006

Terrorism most dangerous threat, says Manmohan
October 27, 2006


Indo-Pak back channel parleys gather steam
October 26, 2006


Antony gets Defence
October 25, 2006


ISI trying to subvert forces, says Pranab
October 24, 2006

Bill on judges' accountability in Parliament soon
October 23, 2006

Government consults CMs on OBC reservation
October 21, 2006

SC upholds quota in promotions
October 20, 2006
11th Plan to target 10 per cent growth
October 19, 2006