PUNJAB

HARYANA

JAMMU & KASHMIR

HIMACHAL

REGIONAL BRIEFS

NATION

OPINIONS

MAILBAG

BUSINESS

SPORTS

WORLD
ADVERTISEMENT
ADVERTISEMENT
Sunday, December 3, 2006, Chandigarh, India
Updated at 3:00 am (IST)

Aged bridge falls on train
33 DIE 'Ulta Pul' in Bhagalpur was being dismantled when it came down
Patna, December 2
At least 20 persons, including a two-year-old child and five women, were killed and over 19 injured in a freak accident at Bhagalpur today when an 150-year-old bridge fell on the sleeper class coach S8 of the 3071 UP Jamalpur-Howrah Superfast Express.

In video (56k)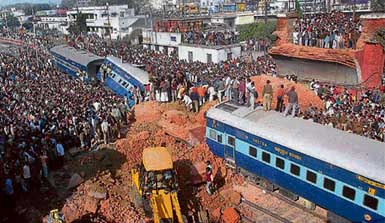 Buried under: A coach of the Jamalpur-Howrah Superfast Express lies crushed when an overbridge fell on it in Bhagalpur on Saturday. — PTI photo


An ominous warning in 1999
Patna, December 2
Patna: The freak accident at Bhagalpur when a half-dismantled overbridge fell on a coach of Howrah-Jamalpur superfast express again brought to the fore the alleged lackadaisical attitude by respective Railway Ministers to attach adequate importance to the findings by Justice H. R. Khanna.
14 die in HP bus mishap
Solan, December 2
Fourteen persons were killed and 30 others injured, four of them seriously, when a Himachal Roadways Transport Corporation (HRTC) bus (HP-14-7501) rolled down a 300-metre gorge near Jokhri village on the National Highway-22 near Kandaghat after being hit by another bus coming from the opposite direction.

CAST YOUR VOTE
Should a law be enacted to stop the discrimination faced by people living with HIV/AIDS?

ADVERTISEMENT
ADVERTISEMENT


India: The Tasks Ahead
SPECIAL SUPPLEMENT
125TH ANNIVERSARY CELEBRATIONS,
INAUGURAL SESSION