PUNJAB

HARYANA

JAMMU & KASHMIR

HIMACHAL

REGIONAL BRIEFS

NATION

OPINIONS

MAILBAG

BUSINESS

SPORTS

WORLD

ADVERTISEMENT
Tuesday, February 20, 2007, Chandigarh, India
Updated at 3:00 am (IST)

Samjhauta terror strike kills 67
Most dead Pakistanis
Panipat, February 19
At least 67 persons were killed and 13 injured when two coaches of the Delhi-Attari Express (4001 Up) were engulfed in a devastating fire caused by an improvised explosive devices (IED) near here, on Sunday night.



Amity Blasted

: An NSG officer collects samples from the charred carriages of Samjhauta Express near Panipat. — AFP photo
PM, Pervez to keep up peace battle
Pakistan President Pervez Musharraf and Prime Minister Manmohan Singh, while condemning the "heinous" bombing of the Samjhauta Express, vowed not to allow such acts of terror derail the peace process.
CAST YOUR VOTE
Should President's rule be imposed in UP?

ADVERTISEMENT
ADVERTISEMENT
ADVERTISEMENT

CHANDIGARH

LUDHIANA

JALANDHAR
New

DELHI

HIMACHAL PLUS
New

AMRITSAR PLUS

LIFESTYLE
New

BRIDES WANTED

GROOMS WANTED

OTHERS

HOW TO PLACE ADVTS

Kerosene bombs used, man detained

Fast-track visa for kin of victims

Pak has a question: Why locked doors?

List of dead


Job for one family member of each victim: Lalu
Lalu Prasad said the ministry would give jobs to one family member of each Indian killed in the blasts. A relief of Rs 50,000 will be given to those injured.


Tandoor case
HC upholds death for Sushil
New Delhi, February 19
The death sentence to former Youth Congress general secretary Sushil Sharma for the brutal murder of his wife Naina Sahani 12 years ago and then cutting her body into pieces and burning them in a "tandoor" of his restaurant, was confirmed by the Delhi High Court saying it was an act of "butchery" committed by a "power- drunk" man.

Disqualification of 13 BSP MLAs notified
Lucknow, February 19
Formally disqualifying the 13 former BSP MLAs mentioned in the February 14 apex court order, Speaker Mata Prasad Pandey today notified the Election Commission and declared their seats vacant.




India: The Tasks Ahead
SPECIAL SUPPLEMENT
125TH ANNIVERSARY CELEBRATIONS,
INAUGURAL SESSION







HOROSCOPE

Inclusion of 'tainted' ministers
SC refers issue to Constitution Bench
New Delhi, February 19
The Supreme Court today referred the issue of inclusion of "tainted" ministers in the Manmohan Singh government to a Constitution Bench stating that it involved the defining of an important question of law whether there was prohibition under the oath of office on appointment of a person facing criminal charges as minister.
The agony of the innocent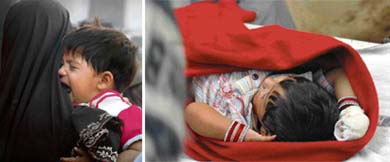 (Left) A child, whose grandmother was travelling by the Samjhauta Express and is missing, cries outside the mortuary of the Civil Hospital, Panipat, on Monday. — Tribune photo by Pradeep Tewari (Right) An injured toddler. — PTI photo


E - Revolution 2005:
A Two-day IT conclave

Assembly Elections - 2005

Turbans

Chandigarh is 50

EARLIER FEATURES
Sonia calls CWC meeting today
February 19, 2007

Cong, Lalu want UP Govt sacked
February 18, 2007
Terrorists operating in big cities: Patil
February 17, 2007
Petrol, diesel cheaper
February 16, 2007
SC negates '03 BSP split in UP
February 15, 2007
72% outpour beats weather
February 14, 2007
Who will govern Punjab,
February 13, 2007
Fiercest poll battle ever
February 12, 2007
Kalam wants case review
February 11, 2007
J-K to probe rights violations
February 10, 2007