Meditation keeps stress away
Meditation is overtaking money as a priority for those not so-young new age professionals of the Doaba region. Exhausted by the long race for material bliss have set them on a voyage for peace of mind. Though, these professionals and businessmen have touched heights in their respective fields, but, what has eventually driven or is driving them to spirituality is lack of peace and serenity of mind.


Mr Rajesh Gupta, Dr Anirudh Kapoor
NRI Sabha meeting
The NRI Sabha, Punjab, is planning its forthcoming general meeting on February 25 at Guru Nanak Dev District Library here with a clear agenda to amend the constitution so as to reduce interference of bureaucracy into the NGO's affairs. However sabha chairman and NRI commissioner N.S. Kalsi has no information about the meeting. Conventionaly, the sabha meetings are presided over by its patron .
Illegal taxi stands dot Phagwara
After snazzy cars illegal taxi stands have mushroomed along the Phagwara roads. These illegal structures have come up at a dozen corners in the city. While the owners of these taxi stands term the practice of allotting separate lands for the purpose like what was done in the past as the need of the hour, the authorities here say that this could not be done.


Ek kudi Panjaban...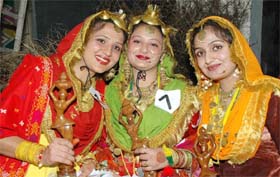 Punjaban Mutiar contest winner Meenakshi Sharma (Centre), First runners up Mandeep Kaur (left) and second runners up Amandeep Kaur (right). The contest was organised by the Punjabi Sabhyacharak Pirh at Virsa Vihar Kendra in Kapurthala
Just a thought
They died without knowing why
Those who got killed in the Samjhauta Express on Tuesday evening were not just numbers, but human beings. Some of them had saved for years to undertake this journey to be with their brothers, sisters, nephews and aunts. No one took aim at them.
Young World
A young fashion show
The fashion designing students of Kanya Maha Vidyalaya put up a ramp show of their creations on Wednesday. Students came dressed up in single length sarees, ready-to-wear sarees, skirts, suits and childrenwear dyed, printed, designed, stitched and embellished by them with embroideries and stones.
Spring carnival
Spring Carnival will be organised by Joy de vivre and Purnam at Windsor Hall in Hotel Radisson on February 24 and 25 in association with Prayas, an organisation for mentally disabled children run by the Red Cross, Jalandhar.
Mannat is Miss Apeejay
Mannat Bhatti was selected as Miss Apeejay Pre-Primary, while the title of Master Apeejay Pre-Primary went to Abhishek Chopra in the Miss and Master competition organised by Apeejay School.