Rich haul of fake Bt cotton seeds
Gidderbaha (Muktsar), March 31
The state agriculture department in collaboration with the Muktsar police has effected the biggest-ever seizure of 525 bags of uncertified Bt cotton seed after carrying out a three-day-long search at three different premises of a local business firm — Punjab Beej Bhandar.
Quota bandh halts Tamil Nadu
Chennai, March 31
Life came to a standstill for 12 hours in Tamil Nadu today following a bandh call given by the ruling DMK and its allies in protest against the Supreme Court judgement staying the 27 per cent reservation for OBCs in elite educational institutions.
IIM-A raises fees for two courses
Ahmedabad, March 31
The Indian Institute of Management-Ahmedabad has hiked the fees for its post-graduate management programme from Rs 1.77 lakh to Rs 2 lakh.
Cigarette firms flout excise rules
Chandigarh, March 31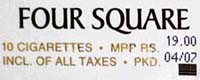 With no government checks in operation, cigarette manufacturing companies minted big money for the entire month of March.
Road Rage
Cops hunt for 3 Doon students
Dehra Dun, March 31
The police has launched a manhunt to nab three students of Doon School allegedly involved in a road rage incident that left one of two motorcycle-borne persons dead and the other seriously injured after being hit by their speeding car on the busy Rajpur Road here on Wednesday night.