PUNJAB

HARYANA

JAMMU & KASHMIR

HIMACHAL

REGIONAL BRIEFS

NATION

OPINIONS

LETTERS

BUSINESS

SPORTS

WORLD
Saturday, June 14, 2008, Chandigarh, India
Updated at 3:00 am (IST)

Militants ambush GREF vehicles in J&K
Lt-Col, 4 others killed
Udhampur, June 13
At least five officers of the General Reserve Engineering Force (GREF), including one Lt-Colonel and his deputy, were killed when militants ambushed their vehicle near Singhtantop on the Kishtwar-Anatnag road today. Reports reaching here said the officers were on their way to monitor work on the Kishtwar-Singhtantop road.
Monsoon hits region
New Delhi, June 13
Covering a large distance and that too very rapidly, the monsoon today arrived in Haryana, Punjab, Himachal Pradesh and Jammu and Kashmir almost 10-12 days ahead of schedule.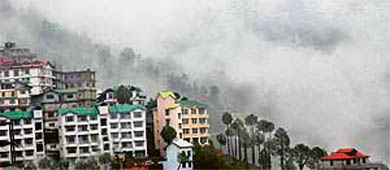 Ominous clouds crept over Shimla on Friday. Elsewhere, in Punjab
and Haryana, it poured hard in the morning. — Tribune photo by
S. Chandan
Gorkha morcha rejects talks offer
Seeks Prime Minister's intervention
Kolkata, June 13
The Gorkha Janmukti Morcha (GJM), demanding a separate Gorkhaland, has sought the Prime Minister's intervention in "protecting the hill people's interests in Darjeeling against the dictatorship of Chief Minister Buddhadeb Bhattacharjee and the CPM onslaught".
CAST YOUR VOTE
Are you worried about weapons of mass destruction falling into terrorists' hands?

Advt
ASTROLOGER GANJAWALA
Marriage, Job, Immigration, Foreign Tour, Business, Solve with Sidh Hindu Remedies.
+91-98155-95108 (INDIA)

HOROSCOPE


CHANDIGARH

LUDHIANA

BATHINDA

JALANDHAR

DELHI

HIMACHAL PLUS

HARYANA PLUS

JALANDHAR PLUS

AMRITSAR PLUS

LIFESTYLE

BRIDES WANTED

GROOMS WANTED

OTHERS

HOW TO PLACE ADVTS
In Amritsar Plus today
Arushi Murder
Dr Talwar's aide arrested


New Delhi, June 13
The Central Bureau of Investigation (CBI) today arrested Krishna, the compounder of Dr Rajesh Talwar in the twin murder case of Arushi and Hemraj. The arrest was made after analysing in detail the polygraph, narco tests and psycho analysis of Krishna which were conducted recently. Krishna, Talwars' compounder
Saamna offices attacked over caricature of Rane
Mumbai, June 13
The Shiv Sena, which has a history of damaging newspaper offices and assaulting journalists, got a dose of its own medicine when supporters of rebel-turned-Congress leader Narayan Rane allegedly attacked the offices of its mouthpiece Saamna in many parts of Maharashtra.

E - Revolution 2005:
A Two-day IT conclave

Assembly Elections - 2005

Turbans

Chandigarh is 50

125 Years of The Tribune
India: The Tasks Ahead
India at Sixty
A Tribune Supplement

EARLIER FEATURES
Govt's economic measures half-hearted: Left
New Delhi, June 13
The Left parties today stepped up their attack on the government, accusing the ruling UPA of adopting a "slack attitude" towards containing inflation which has soared to a seven-year high of 8.75 per cent. The parties, which provide crucial outside support to the Congress-led dispensation, alleged that the government has surrendered itself to market speculators.
Wife of BJP legislator feared kidnapped
Bangalore, June 13
In an unprecedented incident, the wife of a BJP legislator is suspected to have been kidnapped in Karnataka's Naxal-infested Udupi district. It is learnt that Padmapriya, wife of BJP MLA from Udupi K. Raghupati Bhat, had gone missing on June 10. This morning, her car was found abandoned near Kunjargiri hills, near Katapady, under the Shirva police station.


'Save Ganga' finds countrywide echo
Environmentalist begins indefinite fast
Dehra Dun, June 13
Dr G.D. Agarwal (76), a noted teacher and environmentalist, on the occasion of "Ganga Dusshera" today, started his indefinite fast at the Manikarnika Ghat on the banks of the Bhagirathi, near Uttarkashi town, in protest against the construction of a large number of hydro-electric projects on the Ganga between Gangotri and Uttarkashi.
In Sports Tribune today
Rs 850 MSP for paddy
June 13, 2008


Singhs exit Ranbaxy


June 12, 2008

Punjab & Haryana HC in crisis
June 11, 2008

PM warns of N-terror attack
June 10, 2008

Mayawati sacks minister
June 9, 2008

Info on funds to NGOs to be made public
June 8, 2008

UPA differs on rollback
June 7, 2008

Govt in damage control mode
June 6, 2008

Petrol price up by Rs 5, diesel Rs 3
June 5, 2008

Mush should be tried for treason: Sharif
June 4, 2008