PUNJAB

HARYANA

JAMMU & KASHMIR

HIMACHAL

REGIONAL BRIEFS

NATION

OPINIONS

LETTERS

BUSINESS

SPORTS

WORLD
Wednesday, July 16, 2008, Chandigarh, India
Updated at 3:00 am (IST)

Delhi Test
PM: We'll make it
New Delhi, July 16
While the Congress and its allies are making frantic efforts to garner support for the July 22 trust vote, Prime Minister Manmohan Singh today expressed confidence that the government has the numbers to pull through unscathed. Speaking to a select group of journalists for the first time after the Left parties withdrew support to the UPA government, the Prime Minister was equally confident that the Indo-US nuclear deal would go through.
PM being a Sikh no issue: Badal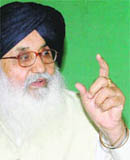 Chandigarh, July 15
Chief Minister Parkash Singh Badal today made it clear that the Shiromani Akali Dal (SAD) would go with the NDA on the nuclear deal issue and could not be swayed on religious lines to vote in favour of Prime Minister Manmohan Singh on the trust vote in Parliament.

Parkash Singh Badal
Doubts over JD-S support
New Delhi, July 15
Janata Dal-Secular president and former Prime Minister H. D. Deve Gowda, along with three MPs, is not likely to support the United Progressive Alliance (UPA) government at the Centre during the confidence vote on July 22. Formally, the JD-S maintains that its political affairs committee (PAC) will decide as to whom to vote only on July 18 in Bangalore.
CAST YOUR VOTE
Does India need nuclear energy?

Advt
ASTROLOGER GANJAWALA
Marriage, Job, Immigration, Foreign Tour, Business, Solve with Sidh Hindu Remedies.
+91-98155-95108 (INDIA)


CHANDIGARH

LUDHIANA

BATHINDA

JALANDHAR

DELHI

HIMACHAL PLUS

HARYANA PLUS

JALANDHAR PLUS

AMRITSAR PLUS

LIFESTYLE

BRIDES WANTED

GROOMS WANTED

OTHERS

HOW TO PLACE ADVTS
In Himachal Plus today
In Jalandhar Plus today
In Health & Fitness today
We should not have included Speaker's name: Yechury
New Delhi, July 15
"We should not have included Speaker Somnath Chatterjee's name in our list of MPs while withdrawing support from the UPA. Or, at least, there should have been an asterisk denoting his status as Speaker," said Sitaram Yechury, Politburo member, in an interview to a private news channel.

PMO defends meet with Ambani
New Delhi, July 15
A day after Reliance Industries Ltd (RIL) chairman Mukesh Ambani met Prime Minister Manmohan Singh, it was confirmed that the meeting was primarily to get support on the trust vote on July 22. The Prime Minister's Office (PMO) also confirmed that the meeting had nothing to do with the "corporate affairs" of the warring brothers.
Captain alleges harassment, Army cites 'mental weakness'
Chandigarh, July 15
A woman Army officer posted at Kalka, near here, has complained of physical and mental harassment at the hands of three senior officers of her unit. The Army, on the other hand, has denied the allegations. Captain Poonam Kaur, who has been in the Army for three years and is serving with an ASC battalion at Kalka since October, has blamed the battalion's commanding officer, the second-in-command and the adjutant for harassing her.
In Jobs & Careers today
In Amritsar Plus today

E - Revolution 2005:
A Two-day IT conclave

Assembly Elections - 2005

Turbans

Chandigarh is 50

125 Years of The Tribune
India: The Tasks Ahead

India at Sixty
A Tribune Supplement

EARLIER FEATURES

'Paro Punjab'
Campaign to better primary education launched
Chandigarh, July 15
Krishan Kumar, an IAS officer, who as deputy commissioner had tried to correct demographic profile of Nawanshahr by launching a campaign against female foeticide, is now all set to change the profile of primary education in government schools of the state. He yesterday launched the "Paro Punjab" campaign, focusing on improving education system and infrastructure in government primary schools. It appears "Taare Zameen Par," a film that awakened educationists across the country, has acted as the motivating factor for Krishan Kumar.


Swedes coming for sex lessons in India
New Delhi, July 15
India seems to be hotting up as a destination for learning the art of making perfect love even as Hindu fundamentalist bodies are protesting the release on foreign shores of the Hollywood film 'The Love Guru'. The protestors have said the film denigrates the Hinduism by depicting false things about the religion, and making fun of 'guru-shishya' (teacher-student) tradition. The 88-minutes comedy movie stars Mike Myers (of Austin Powers fame).
HOROSCOPE
Cong into overdrive
July 15, 2008

Basu tells Somnath to toe party line
July 14, 2008

Cong all out to sell deal to public
July 13, 2008

Delhi test on July 22
July 12, 2008

I am ready, PM tells President
July 11, 2008

The great headhunt begins
July 10, 2008

Left pulls out, PM unfazed
July 9, 2008

Azad quits
July 8, 2008

Vigilance not satisfied with Amarinder's answers
July 7, 2008

Clashes over Srinagar shrine fire, 30 injured
July 6, 2008