Synthetic milk products flood Ambala markets
Ambala, July 21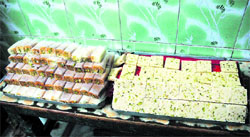 Ambala City and Ambala Cantt have become the transit centres for supplying synthetic milk products and unhygienic meat to Punjab and other parts of Haryana. A large quantity of synthetic khoya and paneer is being brought here from various parts of Uttar Pardesh everyday through private vehicles and rail-bus services.
Sweets made of adulterated khoya at a sweet shop in Ambala. Photo: Kamal Sachar
Century-old lake on verge of extinction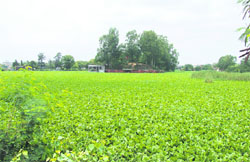 Ambala, July 21
Residents of Ambala city are witnessing the death of a beautiful lake that is located in the heart of the city. Initially, the lake was spread over 25 acres but now it has been reduced to a mere five acres. Not only the land mafia but also the municipal council has played a major role in denting its exclusivity.


IN A STATE OF MESS: Wild growth all over the lake that was once a picnic spot. Photo: Kamal Sachar
UNPA prospects brighten in state
Chandigarh, July 21
Fast-changing "business-alignments" on the political scene at the Centre, the rising and falling numbers in the run up to the trust vote the UPA faces on July 22 and the "reorganisation" of the anti-UPA forces, it's all happening at a whirring pace.
NH-73 laced with potholes
Yamunanagar, July 21
The stretch of National Highway-73, passing through the district, has become a nightmare for commuters due to the huge potholes that have made the area accident-prone. The condition has worsened due to the heavy rains this year.
No fishy business this
Panipat, July 21
With the ever-increasing input costs and disappointing minimum support prices, more and more farmers in the state are now looking for alternative sources of income. In the given circumstances, fish farming has proved to be a big hit among the state farmers who are now finding it to be the best option available.
Groundwater Depletion
Mass awareness must: Experts
Hisar, July 21
The three-day 16th National Symposium on Groundwater Resources: Conservation and Management concluded at Guru Jambheshwar University of Science and Technology here recently.
Admn gears up to check floods in Ambala
Ambala, July 21
Three major rivers — Markanada, Tangari and Ghaggar — pass through Ambala district, which lies at the Shivalik foothills. During heavy rains in the catchment areas of these rivers, the possibility of flash floods is high.
MDU to have central science laboratory
Rohtak, July 21
Maharshi Dayanand University (MDU) here will have a modern central science laboratory for better research and teaching facilities.
Jind students in AIIMS merit list
Jind, July 21
Ankur Lathar of Rajgarh village in the district has brought laurels in the academic field. She has emerged runner-up in PMT conducted by the All-India Institute of Medical Sciences (AIIMS) this year. She had earlier notched up exhilarating performance by getting 22nd position in the All-India CBSE PMT examination held earlier this year, besides being selected for other well-known institutes, including the AFMC, Pune.


Ankur Lathar
HJC hopes to gain from N-deal row
Faridabad, July 21
Political developments in the country in the wake of the nuclear deal controversy, coming close on the heels of assembly byelections in Haryana, has given workers of Haryana Janhit Congress (HJC) an opportunity for greater self-identity. The development, which has given tense moments to the Congress-led UPA government at the Centre, has brought smiles on the faces of the rank and file of the HJC.