Ahirwal wary of sainik school project's fate
Rewari, July 7
With the postponement of the foundation stone-laying ceremony of the sainik school scheduled for July 5, a vital question is now agitating the minds of people of the Ahirwal region whether the school has once again eluded them.
Plus 2 to Master's
MDU offers PG courses to school pass-outs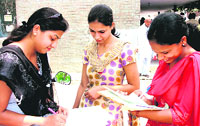 Rohtak, July 7
In a novel decision in the realm of higher education, the authorities of Maharshi Dayanand University (MDU) here have launched several five-year
honours courses for school pass-outs from this academic session.

Students fill admission forms on the Maharshi Dayanand University campus in Rohtak. — A Tribune photograph

Banks list loan waiver beneficiaries
Jhajjar, July 7
Implementing the Union government's amended loan waiver scheme for the farmers, the local branches of various banks have released the lists of those farmers who are eligible for getting benefit under this scheme.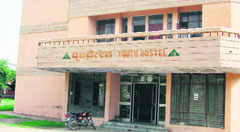 Bhiwani youth hostel in a shambles
Bhiwani, July 7
The local youth hostel is in a state of neglect. Although the basic structure of the building is functional, electrical fittings have come off and seepage of rainwater has damaged the roof.

The Youth Hostel building in Bhiwani which
needs urgent repairs.


Mulayam saves Chautala from embarrassment
Chandigarh, July 7
Indian National Lok Dal supremo Om Prakash Chautala was the first of the UNPA constituents to criticise the Samajwadi Party (SP) and its chief Mulayam Singh Yadav for extending support to the Congress-led UPA government at the Centre.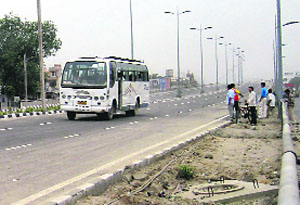 TEST RUN? Motorists and pedestrians had a surprise on Saturday when a bus was found plying on the Panipat flyover which has not yet been opened to traffic despite a notice from the Punjab and Haryana High Court. — Tribune photo by A.J. Phillip
Sharp reaction to charges against akademi chief
Rohtak, July 7
Elderly poet Udaibhanu Hans' recent "outburst" against Haryana Sahitya Akademi (HSA) director Desh Nirmohi has evoked a sharp reaction from state's literary circles.
'Apna' hospital
nobody's baby
Ambala, July 7
The civil hospital, Ambala City, is not even a decade old and nobody is bothered about its upkeep. It has its own list of problems despite being a new set-up.
Authorities blind to misuse of electricity
Karnal, July 7
Even as the residents of state are forced to stay without power for hours together in the humid season, enormous amount of electricity goes wasted.
Karnal takes lead in sanitation drive
Karnal, July 7
As the entire targeted population of Karnal district is covered under the rural sanitation programme, the district administration has taken a lead in the ambitious plan to provide toilets in the villages.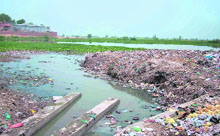 Chilli gives bitter tears to locals
Owing to official apathy, the historical lake has been reduced to a filthy pond
Fatehabad, July 7
Chilli, the historical lake of Fatehabad, has become the bane of local residents. Situated along the historical fort of Mogul emperor Firoz Shah Tughlak, the lake provided security to the fort from three sides.
A view of historic Chilli lake in Fatehabad. — Photo by writer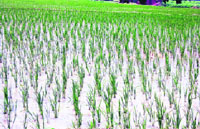 Fatehabad tops in per hectare crop yield
Fatehabad, July 7
Known for its agriculture based economy, Fatehabad district has achieved a unique distinction of being on top of Haryana in the matter of yield per hectare of cotton and paddy crop.

A view of paddy fields in Fatehabad district. — Photo
by the writer

Jhajjar ups ante against spread of dengue
Jhajjar, July 7
The longstanding demand of implementing the Urban Malaria Scheme (UMS) in the district has finally been met.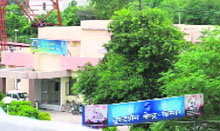 Loss of Vision
DD Haryana victim of official apathy
Hisar, July 7 Haryana's lone Doordarshan Kendra located here has fallen a victim to official indifference. In the absence of adequate
technical staff, the transmission from the kendra has been restricted to 150 minutes on Monday through Friday and a mere 15 minutes on Saturday and Sunday.
The DD Kendra in Hisar whose working has been hampered by lack of staff. — Photo
by Subhash Kumar

Kaithal-Patiala road in bad shape
Kaithal, July 7
The condition of the Kaithal -Patiala road, which was in a very good shape till a few months ago, has now been deteriorating with each passing day, thanks to the indifferent attitude of officials.
Commandos to attend driving course
Karnal, July 7
In the wake of threats to VIPs moving in a cavalcade, the state police has drawn a special driving training programme for commandos to enable them to provide additional cover to the dignitaries during emergency situations on roads.
Citizens' Grievances
Flawed question paper