Anomalies in pay, status irk school principals
Chandigarh, July 10
Even as the Bhupinder Singh Hooda government plans big on the education front, hundreds of school principals in the state continue to get a raw deal regarding pay scales and status, as compared to their counterparts in the neighbouring states.
Eighth vow against foeticide
Man behind concept to further his mission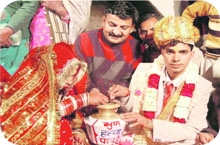 Shyam Sunder's leave for two years has been sanctioned by the Haryana Governor in view of his pioneering work against this social evil over the past few years
Bhiwani, July 10
Meet the crusader who has introduced the eighth "phera" to the traditional Hindu marriage ceremony involving seven vows taken by the marrying couple by going round a holy fire.

A couple takes a vow against female foeticide during marriage ceremony as Shyam Sunder (centre) looks on. A Tribune photograph

Inside Babudom
HC paves way for HCS officers' promotion
Chandigarh, July 10
For HCS officers waiting for promotion to the IAS, the seven-year-long wait seems to have come to an end, with the Punjab and Haryana High Court allowing the government to make the promotions subject to the outcome of a writ petition pending before it.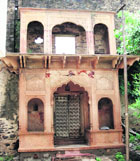 INTACH comes to rescue of
Hemu's haveli
Rewari, July 10
Maharaja Hem Chandra Vikramaditya (1501-1556),
popularly known as Hemu, who was the emperor
of Delhi, has unfortunately gone into the dark
realm of obscurity for obvious reasons.


A view of Hemu's haveli in Rewari. Photo by the writer

Solar energy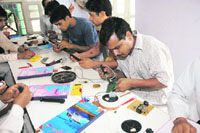 A slow but steady march
Jind, July 10
Solar energy seems to be making a slow but steady inroads into the lives of the rural people in the district. Solar power, the cheapest and non-polluting source of energy, has been mainly lying untapped to a large extent in view of the development made so far to popularise the concept.

A training workshop for repair of solar energy equipments, conducted by the DRDA, in progress in Jind. Photo by the writer

Job scheme puts Sirsa village on path of progress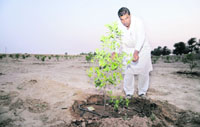 Godikan (Sirsa), July 10
Now, Ramesh Kumar doesn't have to travel to Dabwali town or Sirsa, which is 40 km away, to find work. He is getting work in one or other projects which have been initiated in his village.


Vijay Kumar, sarpanch of Godikan village in Sirsa district, plants a sapling. Photo: Amit Soni

Adding life to years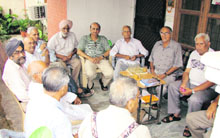 In the absence of facilities for the elderly, the idea to form senior citizens' choupal will surely help them in turning their idle and dependent lives into busy and vibrant ones
Gurgaon, July 10
As the government has little to offer, the elderly people of this boomtown find it hard to pass off evenings of their twilight years.

Members of the Senior Citizens' Choupal have found their way out of monotonous lives. Photo by the writer

Colleges to pay youth fest fee on registration
Jhajjar, July 10
With a view to tightening the noose over those colleges which do not take interest in paying Zonal Youth Festival (ZYF) entry fees despite being mandatory, the Maharshi Dayanand University has recently taken a vital decision in which all colleges affiliated to the university will now have to deposit ZYF entry fee to the university at the time of submission of registration returns.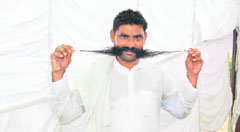 Pokar Ram of village Dharnia in Fatehabad district has become a popular figure here for his long mustache. He is seen exhibiting his long whiskers before camera. Photo: Sushil Manav
MDU offers new fine arts course
Rohtak, July 10
The department of fine arts at Maharshi Dayanand University (MDU) has introduced
a six-year integrated course — master of
visual arts (painting) —- from the current academic session.
Grapes turn sour for growers
Fatehabad, July 10
An early monsoon has taken a heavy toll on the production of grapes in the state. Fatehabad is one of the four districts of Haryana where production of grapes is in abundance, the others being Sirsa, Hisar and Bhiwani.
Wind this fan, it will run for 5 hrs
Rohtak, July 10
This revolutionary innovation by an illiterate village
mechanic will surely make many learned scientists
scratch their head.


Jagbir Panchal displays his innovation, a fan that runs for five hours after winding it for five minutes. Photo by the writer

Forum seeks funds for old-age centre
Kurukshetra, July 10
The Senior Citizens Forum felicitated former Haryana minister Dr Ram Prakash for becoming a Rajya Sabha member at a function held here recently.
More traffic police posts to come up on highways
Sirsa, July 10
District units of the traffic police have earned kudos by securing the highest revenue from the Hisar range, which comprises five districts.
New vistas for higher education
Rewari, July 10
With the emergence of several prestigious educational institutions, Rewari is now virtually making strides in the domains of higher as well as technical education.
Cinema treat for children
Panipat, July 10
Festival offering a package of over a dozen movies, each representing the taste of children, would be organised in the district from July 28 to August 2, during which some of the award winning films produced by the Children's Film Society of India (CFSI) would be showcased.
Sonepat hikes minimum-wage limit
Sonepat, July 10
Taking into consideration, the rate of inflation and rising prices of essential commodities, deputy commissioner Ajit Balaji Joshi has fixed the new minimum monthly and daily wages for different categories of the working class.
'Tainted' leaders put Congress in a spot
There are several leaders in the district who have blatantly courted controversies, much to the embarrasment of Congress
Faridabad, July 10
Several Congress leaders in the district are in the soup, giving uneasy moments to the party organisation in the process.
Learn Sanskrit, urges Jagadguru
Kurukshetra, July 10
Jagadguru Shankaracharya Swami Madhavashram of Badrikashram has urged upon the people to learn and speak Sanskrit in order to understand the true spirit of the Indian culture.
Citizens' Grievances
Subdivisional status demanded
Movie of the week
Mehbooba