Disaster management plan for Gurgaon
Gurgaon, January 15
With a view to making Gurgaon a safer place, the state government is considering a project on disaster preparedness and resilience initiative for the city.
Fatehabad set to be pink town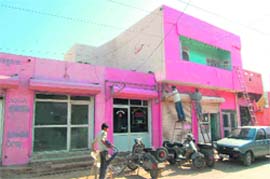 Fatehabad, January 15
Jaipur may be the pink city of the country, but Fatehabad is set to become the first pink town of Haryana if the planning of the district authorities is translated into reality. Deputy commissioner JS Ahlawat, who has started a campaign of beautification of the town, has resolved to convert Fatehabad into a pink town.


Painters give a new look to shops in Fatehabad.




Wasteland turns into park
Fatehabad, January 15
People visiting the local mini-secretariat after a long time are surprised when they find a park developed on a piece of land that was hitherto a wasteland.




The park developed on a wasteland near the mini-secretariat in Fatehabad.
Meltdown
Manufacturing units go in for temporary shutdown
Chandigarh, January 15
Despite the global meltdown and its impact on industry, manufacturing units in Haryana have taken the rap "sportingly" by devising their own ways to tackle the dip in sales and slump in demand.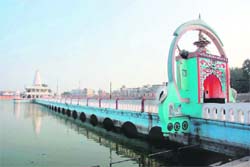 The Bhuteshwar Temple in Rani Talab, Jind. It is said that the erstwhile king built the talab for his queen. Tribune photo: Ravi Kumar
1857 Revolution hero
Honour sought for Raja Nahar Singh
Faridabad, January 15
The demand to accord more honour to the local hero of 1857 Revolution, Raja Nahar Singh, the erstwhile king of Ballabgarh, which is now part of Faridabad distirct, gained momentum with senior leaders of the Congress coming out in support of it.
Samiti plea to PM on roads
Chandigarh, January 15
The Rashtriya Yoddha Samarak Samiti has urged Prime Minister Manmohan Singh to change the names of the roads in the national capital named after "foreign invaders".
Rs 187 cr for water, sewerage in NCR region
Rohtak, January 15
The National Capital Region Board (NCRB) has sanctioned Rs 187.18 crore for the augmentation of water supply and strengthening sewerage system in the NCR region falling in Haryana.


Karnal, January 15
Patients suffering from spinal injuries and other problems related to the spinal cord have reason to smile as they will no longer be required to go to big cities and spend a hefty amount on their treatment.





Dr Tarun Goel addresses mediapersons in Karnal. A Tribune photograph
Consumer panel chief honoured
Kurukshetra, January 15
The Punjabi Sabha, Kurukshetra, honoured Dina Nath Arora on his appointment as the president of the Consumer Forum, Yamunanagar, at a function held at Ved Bhawan here recently.
Panipat police steps up vigil
Panipat, January 15
In an endeavour to check crime, the district police not only stepped up the vigil but also registered more than 220 cases under various sections during the last one month.
Bijli nigam to launch disconnection drive
Jhajjar, January 15
Here is a bad news for those who failed to pay their bills after joining the electricity bill arrear waiver scheme.
Sirsa lad shines in lawn tennis
Sirsa, January 15
Shubham Kamboj, a lawn tennis player from Sirsa, has won the Kurukshetra University Championship for the third time in a row.
Shampy hopes to make waves with 'Chardi Jawani'
Gurgaon, January 15
Indi-pop has been the strongest part of our music industry and Punjabi pop has played a vital role in making it more popular.
Movie This Week
Chandani Chowk To China